Reconstituted Fruit Juice Production Line
Reconstituted Juice Production Line Description 
Reconstituted Juice Dilution Line can also be called juice repacking line, it use fruit and vegetable concentrated juice or puree as raw material, blend with water, sugar and other flavor agents to make it into drinkable juice.
The capacity of the juice processing line can be 500LPH-10000LPH, and the end products can be filled into small bottles, pouches, tin cans or cartons according to client requirements.
The ingredients that can be added to the juice is milk, sugar, coffee powder, Flavors and fragrances, fruit and vegetable compound juice, vitamin, mineral matters, herb plants, emulsifier, sour agent, etc.
The blended juice usually adopts primary plate or tubular pasteurizing + hot filling + secondary tunnel hot water spray pasteurization technology to extend the shelf life of the juice.
All the processing machines are made of food-grade SUS304 material and CIP capable, which ensure to produce premium juice.
The auxiliary equipment for the processing line is RO water generating system(for diluting the concentrated juice and dissolve solid powder), CIP system(for cleaning the tanks, pipelines and filling machine), steam boiler(provide hot water to dissolving tank, blending tank and sterilizer)
Technological Flowchart For Reconstituted Juice Production Line
The reconstituted juice dilution line also called small package juice processing line, juice repacking line. It uses concentrated fruit puree or fruit juice powder(apple, mango, citrus, pineapple, guava etc.) as raw materials. Production starts with blending puree and/or concentrates and adding water while heating in a blending tank, then other ingredients and aromas sugar powder is dissolved in high shear emulsification tank. At last all the materials and ingredients will be blended together in a mixing tank for about 30 minutes. Then well-mixed juice will be homogenizing and degassing and sterilizing, finally, it will be filled into small packages like bottles, pouches or cartons. The whole production line includes sugar powder dissolving system, juice mixing system, homogenizing degassing and sterilizing system, filling and packing system, CIP cleaning system.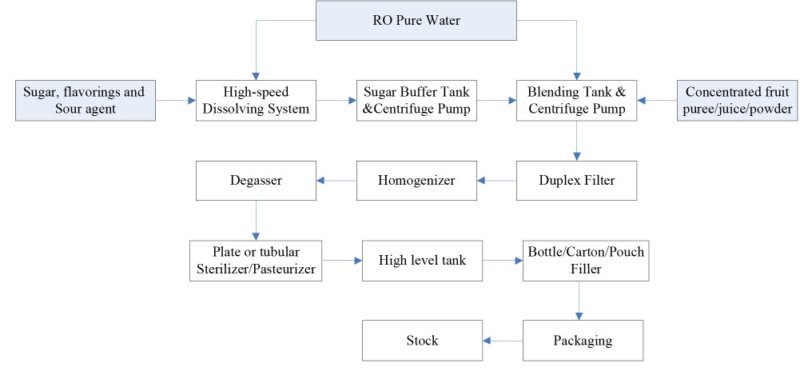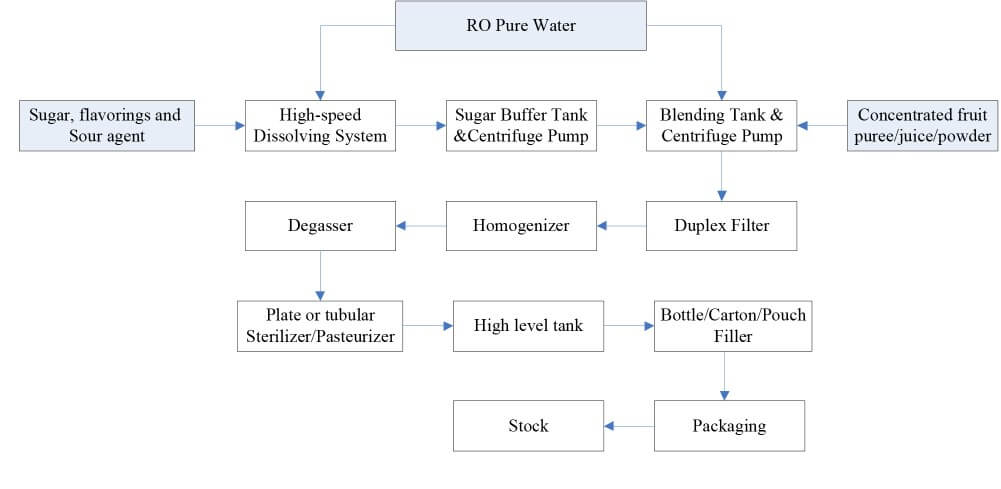 End Products And Package Of Reconstituted Juice Production Line 
100% NFC juice drinks: Use non-concentrated fruit puree or fresh fruit as raw materials, can be produced with or without the addition of sugar and water. Fruit content is 100% or less.
Mixed Juice drinks: Use single fruit or mixed fruit juice concentrates/juice powder as raw materials, then blend with water other ingredients and obtained the mixed fruit juice drinks. This type of juice drinks are clear and without pulp, fruit content is above 10%.
Fruit Nectar drinks: contain fruit pulp, the fruit content 30%-50% with high acidity and less juice like mango nectar. This type of drink does not contain any colorings or preservatives.
Fruit flavor drinks: Using pure water as the main material, add about 5% fruit content and mix with flavoring and sweeteners.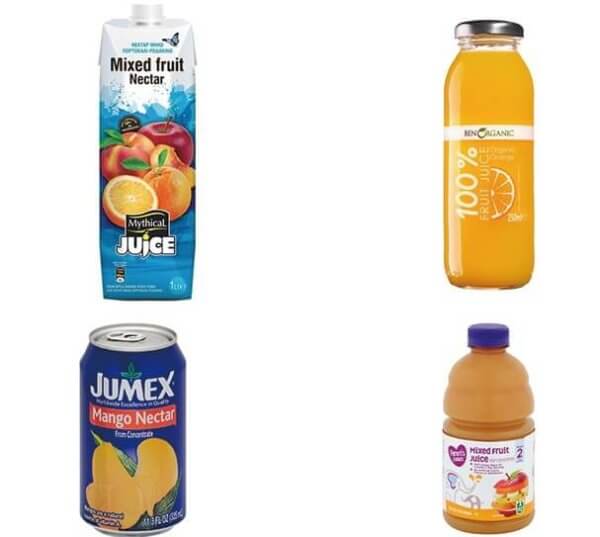 Key Machine Of Reconstituted Juice Production Line
Hot water treatment system 
The hot water treatment system is composed of one plate heat exchanger, one hot water tank, water pump and steam valve group. The main function is heating pure RO water to 60℃ and supply the hot water to sugar/powder dissolving tank and blending tank for ingredients dissolving and blending. The whole system is made of SUS304 material, and the heating method can be steam or electricity.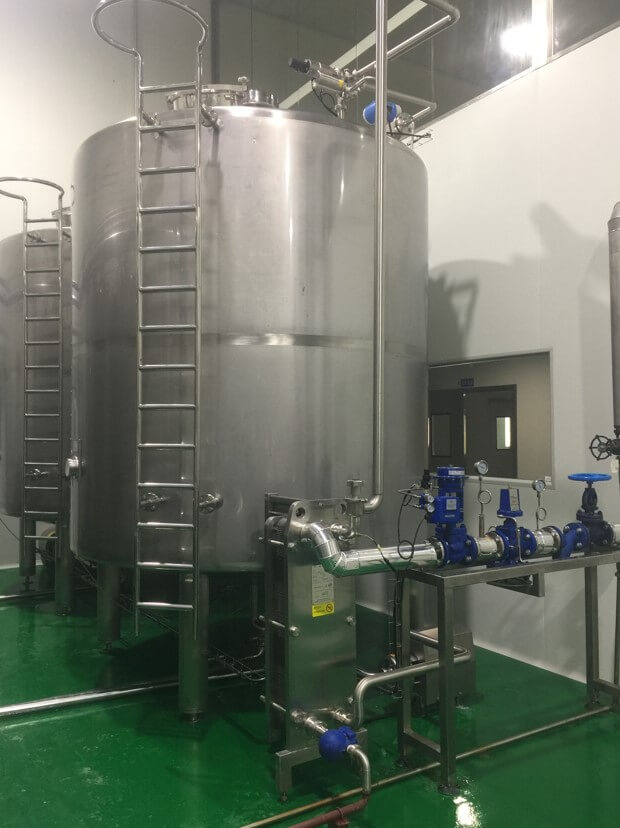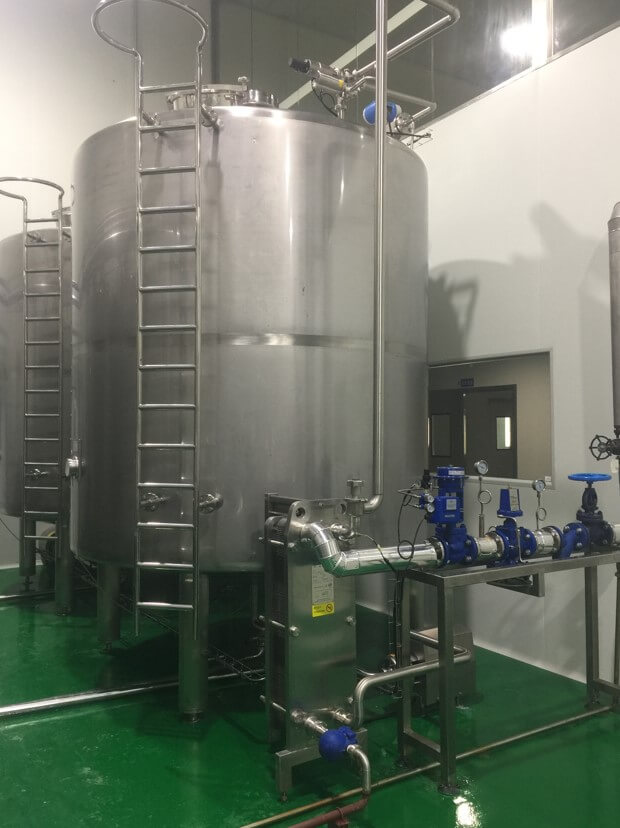 Juice blending tank
The blending tank is also called mixing tank, it is suitable for all kinds of fruit juice mixing, it can be designed one layer mixing, double-layer insulation tank or triple-layer heating tank according to clients' customized technological requirements for hot or cold mixing.
The standard configuration of the blending tank: Liquid material inlet and outlet, airtight side manhole, anti butterfly and air vent, thermometer, temperature sensor, agitator(paddle, anchor, propeller, frame type), sample valve and CIP cleaning ball.  The whole tank uses SUS304/316L material.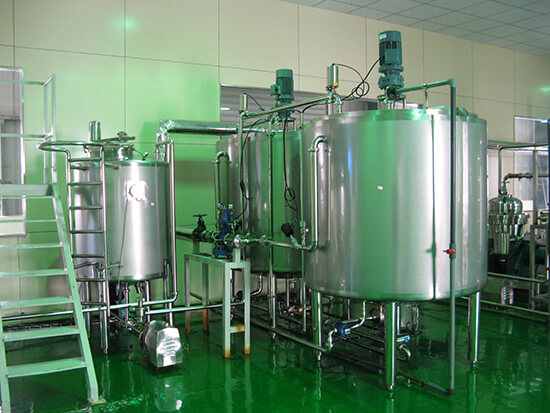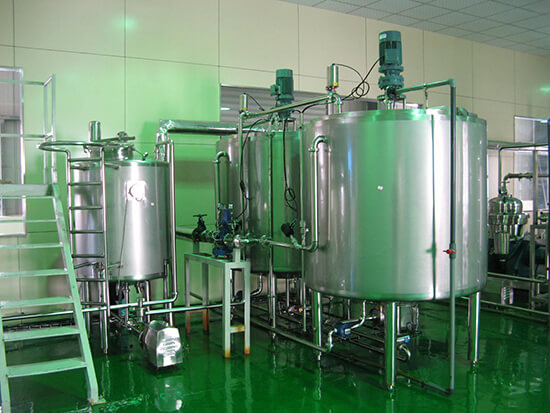 High shear dissolving tank 
Juice manufacturers can dilute and dissolve the hard-to-melt solids powder or liquids in a high-shear melting tank according to the ingredient list.The high shear dissolving tank can dissolve sour agent, sweetener, emulsifier, milk powder, starch, stability agent, colloids and some other solid or high viscosity liquid ingredients with high speed. The stirring speed is 1450-2900rpm adjusted. It divides into the bottom shear and top shear type.