Liquid Egg Processing Line 
Description Of Liquid Egg Processing Line 
The liquid egg processing line includes fresh egg washing machine, egg breaking machine, egg yolk and white separating machine, products reception tank and filter. One plate type cooler will be installed after filter in order to cool down the egg products from 25℃ to 4℃, which can reduce the bacteria growth after the egg-breaking process, storage tank, homogenizer, pasteurizer and bag in box filler.
By breaking and separating eggs, you can consumer your eggs into highly valuable egg liquids or dried egg powder products.
All the eggs are gently broken, then we will get three egg products: the whole egg liquid, egg yolk and egg white. The whole egg liquid can be further proceeded into egg powder and egg yolk can be made into mayonnaise.
As the egg yolk and egg white are high valuable fragile products, and two products can bear different temperatures, so we design to pasteurize egg white and yolk separately to get high-quality end products.
The whole production line equips CIP cleaning system and all the tanks and equipment that contact with material are made of SUS304 to ensure the whole production process is sanitary.
One whole egg can get 60% thick and clear egg white(albumen), 30% yellow egg yolk and 10% egg shell.
The capacity of the liquid egg processing plant is from 200LPH-5000LPH, and the end products can be filled into pouches, bottles, cans, aseptic bag in box containers, cartons.
According to the different configurations of liquid egg processing machines, liquid egg yolk, liquid egg white, egg powder and mayonnaise products can be produced to meet different clients' requirements.


End Products Of Liquid Egg Processing Line 
Egg yolk and white: Fresh egg after washing, breaking, then instantly cooled to 4°C and storage into SUS304 tanks, then through filtering, homogenizing, pasteurizing, filled into aseptic bags from 5kg-1000kg or tetra pak cartons. Shelf life: 0 – +4°C till 30 days, – 18°C – 15 months.
Egg powder: The whole egg liquid after standardization, pasteurizing, enzymatic fermentation desugar, spray drying, then filled into stand up pouches. Shelf life is 2 years. Fresh liquid egg mixture water content is about 75%, and egg powder water content is about 5%, so approximately 3 units liquid egg mixture can get one unit egg powder. The drying temperature is 120-150°C.
Mayonnaise: Use egg yolk as raw material, then cold blending with oil, acid, vinegar, lemon juice and other ingredients, after homogenizing, then filled into tin cans bottles or jars.
Frozen Liqud eggs: Fresh egg after disinfectant, washing, liquid egg extracting, filltering, pasteurization or not pasteurization, then packing into metal cans and freezing to -20℃ and storing to refrigerator.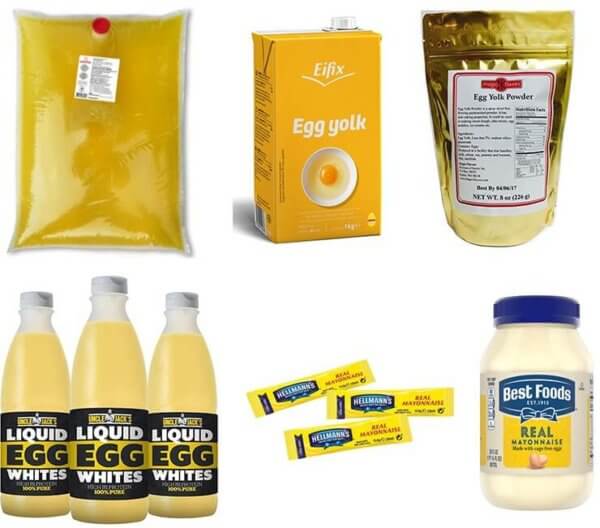 Technological flowchart of the liquid egg yolk and white processing line
Choose high-quality fresh egg as raw material, then unloading the fresh eggs into the egg washing tank, after washing and disinfestation, then use the chain elevator to transfer the egg into brush washer for second egg washing. Then use air drying machine to blow off the water on the surface of the eggs, now we get the dry clean eggs. Then the eggs will transfer to egg breaker and separator, at this station, the egg is broken and liquid yolk and white will be separated, and the liquid egg will be stored in the insulation tank(4℃),  after filtration of the liquid egg, then pumped into pasteurizer for pasteurization, then the liquid egg will be filled into containers such as bottles, pouches or aseptic cartons.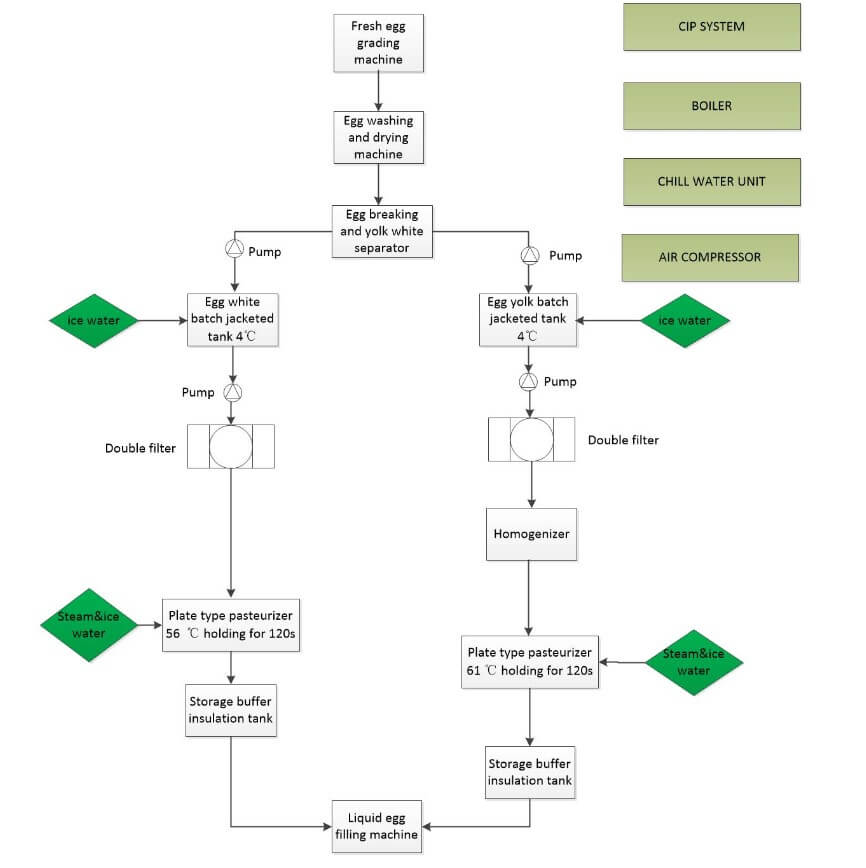 Technological Flowchart of Mayonnaise Processing Line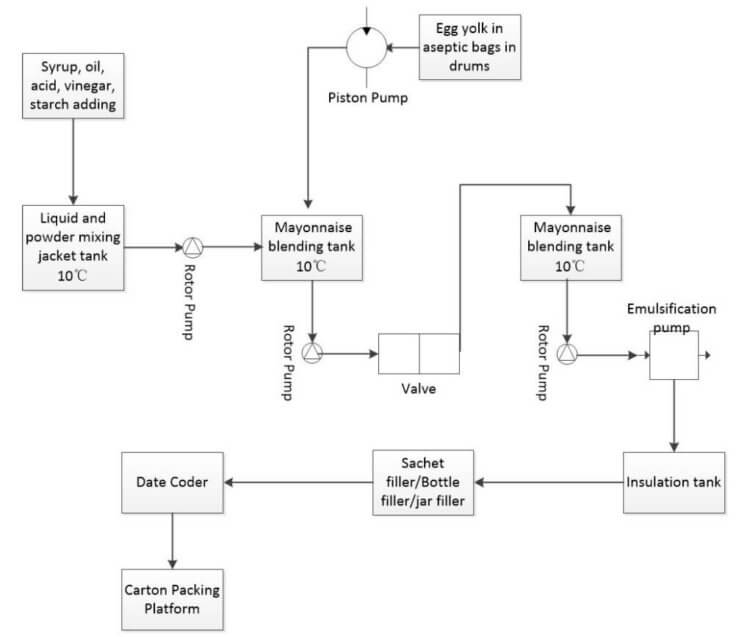 Key Machine of Liquid Egg Processing Line
The full automatic egg cleaning machine is mainly used for washing eggs. Fresh egg products that are cleaned, disinfected, dried and coated after the eggs are laid; The clean egg surface is hygienic, clean and has a long shelf life, which greatly improves the quality and safety of fresh eggs.
Working process: The fresh eggs are transported through the conveyor chain, during conveying, high-pressure water nozzles can spray onto eggs. After that, the fresh eggs will enter into brush washing machine for brush washing. The washing water temperature set to 30-40°C, Then we will get the clean fresh eggs. The last process is using low-temperature hot air to dry the water on the surface of fresh eggs.
Capacity is 8000-10000PCS/Hour, Size:17m*4.4m*2.1m, Power:24kw, suitable for washing chicken and duck eggs.


Egg Breaking&Separating Machine
All the eggs are gently broken, creating either only whole egg or separated yolk and egg white (with a small amount of whole egg). The product from the breaker is collected in small tanks or pumped continuously. Any small shell particles are removed from the product by filtration. The filtered products are cooled down to a temperature <4° C.
(1) Egg knocker and egg white separator are processing equipment for egg-breaking machines. The yolk and egg white can be separated or not separated.
(2) Made of stainless steel, fast and clean
(3) Variable speed control adjustment
(4) Automatic egg cup cleaning
(5) All mec