Milk Cooling tank 
Description
Milk cooling tank is also called milk direct-cooled storage tank or low-temperature refrigerated fresh milk tank, it is mainly used for cooling and storage of fresh milk to prevent bacteria from multiplying in milk collection stations, milk farms, dairy factories, and dairy cattle professional households. It is an important equipment for mechanical milking system in the dairy farms.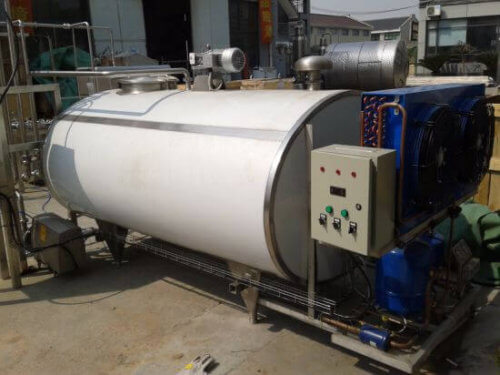 Feature
Structure: vertical, horizontal type.
Capacity: 500L-10000L, the efficiency of insulation≤1℃/4h, Stirring speed:33-36rpm, Refrigerant:R22.
The tank body is made of SUS304 stainless steel, high-precision polishing, in line with the requirements of the new version of GMP, clean, hygienic, beautiful, easy to clean, and durable.
The tank is equipped with an automatic stirring device and a pressurized automatic rotating CIP cleaning head.
The insulation layer adopts 60-80mm polyurethane foaming process, which has high strength, light specific gravity, compact structure and good cold insulation performance.
The advanced computer temperature controller is used to automatically control the temperature of the refrigeration system. The mixing time can be set according to user requirements, with automatic start and stop or manual start and stop.
It adopts Copeland compressor imported from the United States or a well-known domestic brand, equipped with a reliable midpoint guard, which will not burn out the motor due to overload or system failure, with high cooling effect, stable performance and low noise.
The tank wall uses advanced dimple pad as an evaporator to exchange the heat with milk directly and cool it.
Milk direct cooling storage tanks are mainly composed of stainless steel tank body, mixing/stirring device, refrigeration unit, electrical control system, and equipment platform.
The compressor uses imported Tecumseh or Maneurop brand, the expansion valve use TEX or Danfoss brand.
Technical Parameter
| Model | Effective volume(L) | Power(KW) | Refrigeration capacity(W) | Size(mm) |
| --- | --- | --- | --- | --- |
| MCT-500 | 500 | 3.6 | 7380 | 1750*1150*1300 |
| MCT-1000 | 1000 | 4.4 | 9280 | 1950*1350*1450 |
| MCT-2000 | 2000 | 6.7 | 15820 | 2950*1550*1750 |
| MCT-3000 | 3000 | 9 | 19534 | 3500*1650*1850 |
| MCT-5000 | 5000 | 13.6 | 31640 | 4000*2050*2150 |
| MCT-8000 | 8000 | 19.6 | 47460 | 4700*2300*2400 |
| MCT-10000 | 10000 | 23 | 64880 | 5000*2400*2400 |