Vibrating Sieving Machine 
Vibrating Sieving Machine Application 
The vibrating sieve machine also is called vibrating screen or vibrate filter, it is a high-precision material screening equipment with low noise and high efficiency. It can grade, clean and filter materials in different conditions. It has a fully enclosed structure and is suitable for screening and filtering granular, powder, liquid and other materials like salt, coconut milk, egg powder, fruit juice, fruit sauce, tea drinks, protein drinks and other materials in food and beverage industry.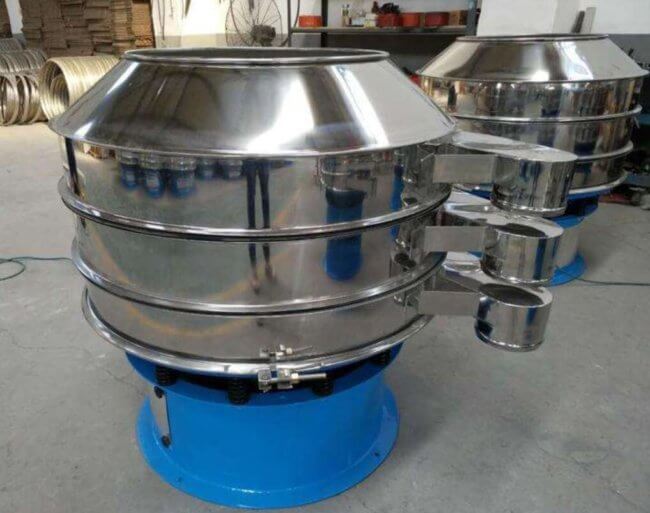 Vibrating Sieving Machine Structure
The vibrating sieve machine is composed of a vibrating motor, screen filter, machine base, screen filter frame. It uses a vertical motor as the vibration source, and eccentric weights are installed at the upper and lower ends of the motor. Convert the motor's rotating motion into horizontal, vertical, and inclined three-dimensional motion, and then transfer this motion to the screen surface. Adjust the phase angle of the upper and lower ends, it can change the trajectory of the material on the screen surface.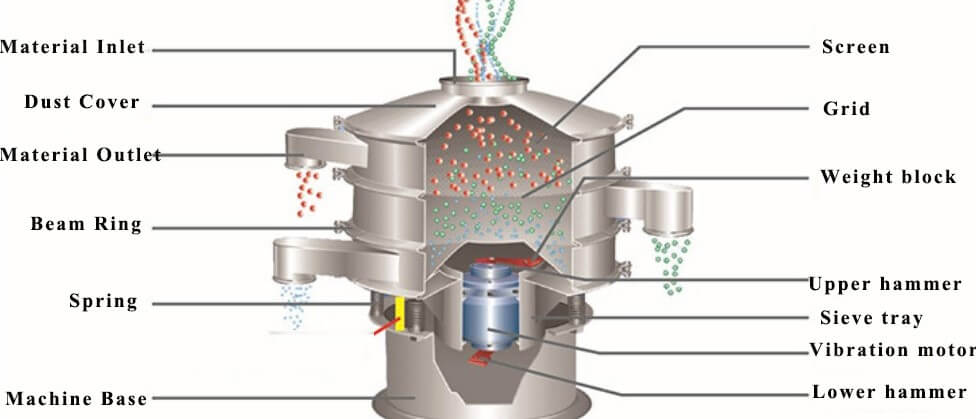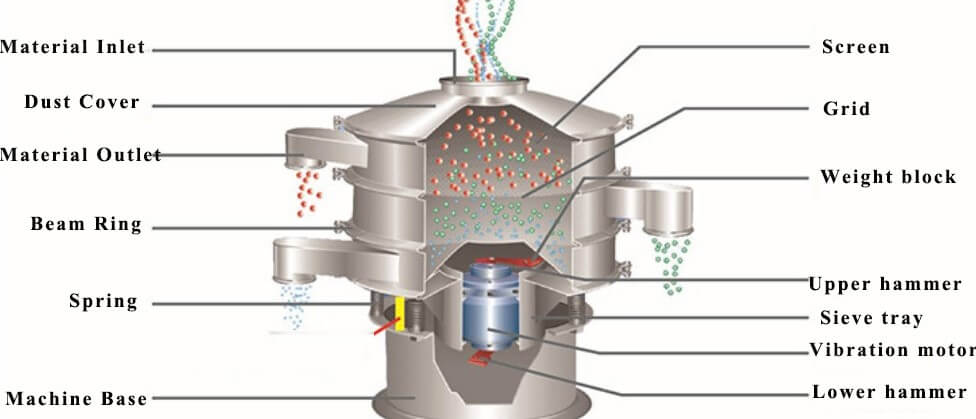 Vibrating Sieving Machine Advantage
High efficiency, exquisite and durable design, any powder liquid material can be screened.
Easy to change the screen, easy to operate and easy to clean.
The mesh will not be blocked, the powder will not fly, and it can be sieved to 500 mesh or 0.028mm.
Impurities and coarse materials are automatically discharged and continuous operation is possible.
Unique grid design, the screen can be used for a long time, and the screen can be changed quickly, only 3-5 minutes.
Small size, space-saving and easy to move.
The number of screen layers can reach five, and three layers are recommended.
The whole machine is made of SUS304 material, which can meet the sanitary standard in food industry.


Vibrating Sieving Machine Technical Parameter
| Model | Effective Diameter | Deck | Screen Precision | Effective Screen Area | Power |
| --- | --- | --- | --- | --- | --- |
| SC-400 | φ380mm | 1-5 layers | 3-500 mesh | 0.0907m^2 | 0.25KW |
| SC-600 | φ560mm | 1-5 layers | 3-500 mesh | 0.2289m^2 | 0.6KW |
| SC-800 | φ750mm | 1-5 layers | 3-500 mesh | 0.4183m^2 | 0.6KW |
| SC-1000 | φ860mm | 1-5 layers | 3-500 mesh | 0.6359m^2 | 0.8KW |
| SC-1200 | φ1100mm | 1-5 layers | 3-500 mesh | 0.9499m^2 | 1.5KW |
| SC-1500 | φ1450mm | 1-5 layers | 3-500 mesh | 1.5386m^2 | 2.2KW |
| SC-1800 | φ1750mm | 1-5 layers | 3-500 mesh | 2.2687m^2 | 2.5KW |
| SC-2000 | φ1950mm | 1-5 layers | 3-500 mesh | 2.7922m^2 | 2.5KW |