Shrink Sleeve Labeling Machine
Description Of Shrink Sleeve Labeling Machine
The shrink sleeve labeling machine is composed of one sleeve label machine, one steam shrink tunnel and a steam generator, the whole machine is made of SUS304 material. It is mainly suitable for shrink film sleeve labels of various round, square and oval bottles, cans(such as food and beverage, cleaning supplies, medicine, cosmetics and other plastic bottles, glass bottles, PVC, PET, PS, tin cans and other containers), It can be fully connected to the production line and operated by a single machine. The container can be labeled before or after filling material. Fully automatic and fast packaging, saving a lot of labor costs and greatly improving the packaging effect of the product.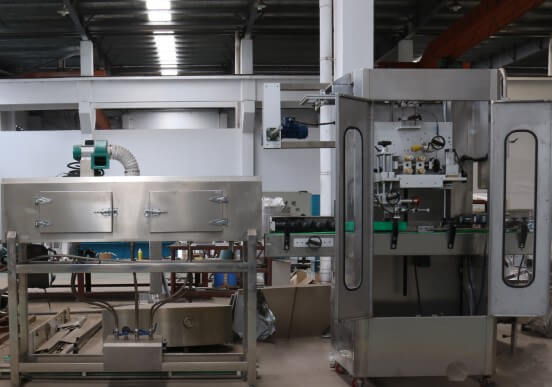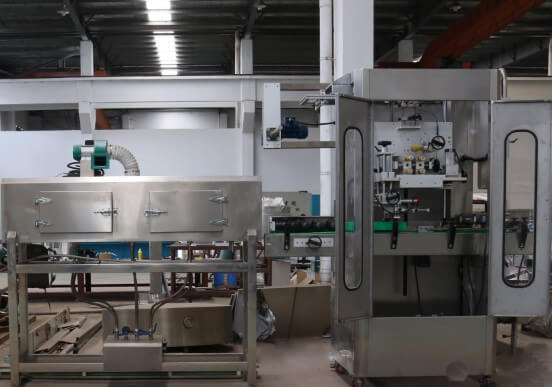 Feature Of Shrink Sleeve Labeling Machine
The machine is stable and elegant in appearance, easy to clean and maintain, and it is the important equipment in bottle production line of food and beverage industries, such as pure and mineral water, milk and dairy products, juice and beverages, beer, medicine and other enterprises.
Human-machine dialogue LCD touch screen, language display can be customized, convenient and intuitive operation, imported PLC control system to ensure the whole machine action, speed and orderly adjustable, stable performance.
Conveyor belt, bottle feeding, bottle correction mechanism, and sleeve labeling mechanism are all driven by separate motors, and can be steplessly frequency-converted to adjust the speed. Cooperating with the sleeve speed, the sleeve and shrinkage can be flawless.
With detailed self-checking function–It can perform self-checking on various I/O, RAM, EEPOM, indicator lights, and various functions of the LCD screen. If there is a failure, the screen will display the failure.
Unique cutter head design, rotary cutting mark, with imported servo drive, automatic search origin positioning, safe and fast, with the label synchronization system, the incision positioning accuracy can reach ±1mm, the cutter head is completely free of replacement, debugging, Disposable blades are more convenient to replace, and the maintenance cost of consumables is lower.
Synchronous transmission mechanism, screw conveying positioning mechanism, realizing accurate distribution and stable positioning of containers of various shapes and specifications, all timing belts and timing wheels are easier to replace, which is absolutely superior to traditional multi-layer linkage mechanism.
The electrical components of the whole machine mainly adopt imported brands, such as: inverter (Danfoss), PLC (Omron), servo system (Delta), optoelectronic devices (Panasonic), electrical switches (Panasonic), touch screen (Omron), etc.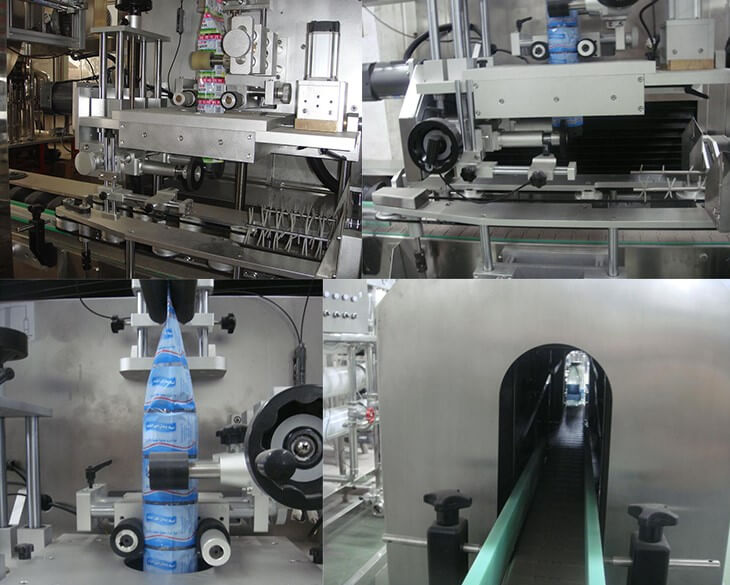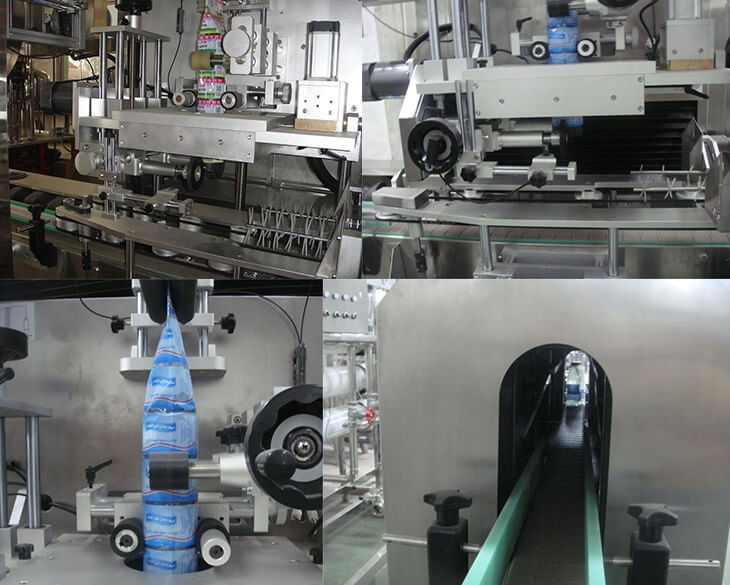 Technical Parameter Of Shrink Sleeve Labeling Machine
| Model | Parameter |
| --- | --- |
| Capacity | 0-300B/MIN |
| Size(L*W*H) | 1500*1055*2000mm |
| Material | SUS304 |
| Weight | 500KG |
| Power | 3KW |
| Suitable Bottle Diameter | φ25-φ125mm |
| Suitable Bottle Height | MAX. 350mm |
| Suitable Label Material | PVC, PET, OPS |
| Suitable Label Thickness | 0.035-0.13mm |
| Suitable Label Height | 25-280mm |
Video Performance