Ginger Garlic Production Line 
Ginger Garlic Production Line Description
Garlic and ginger paste are known for their health benefits, because they have anti-inflammatory and antioxidant properties, health-promoting effect and offer disease-prevention benefits, more and more family use the paste as one healthy cooking ingredient in South Asia and East Asia countries.
This ginger and garlic paste production line is not only suitable for processing fresh ginger and garlic into paste, but also can process onion and other similar vegetables into paste, sauce or juice.
The ginger and garlic paste machine includes garlic cloves separating machine, garlic peeling machine, ginger and garlic washing and sorting machine, ginger and garlic paste grinding/milling machine, ginger and garlic paste mixing tank machine, ginger and garlic paste homogenizing, degassing and sterilizing machine, ginger and garlic paste filling machine and packing machine, CIP system, RO water treatment system, ingredient adding system.
All ginger and garlic equipment operation is controlled by PLC, linked to start and stop, efficient operation and low failure rate.
All the machine is made of SUS304 material, and equipped with CIP system to make sure the production process is sanitary and producing high-quality products.
The end products can be garlic and ginger paste, or garlic and ginger juice, filled into bottles, glass jars, pouches, tin cans and sachets. And the capacity of the processing line is from 500kg/h-5000kg/h.
As a health drink, ginger juice can promote digestion, drive away cold, relieve pain, control blood pressure, and promote hair growth.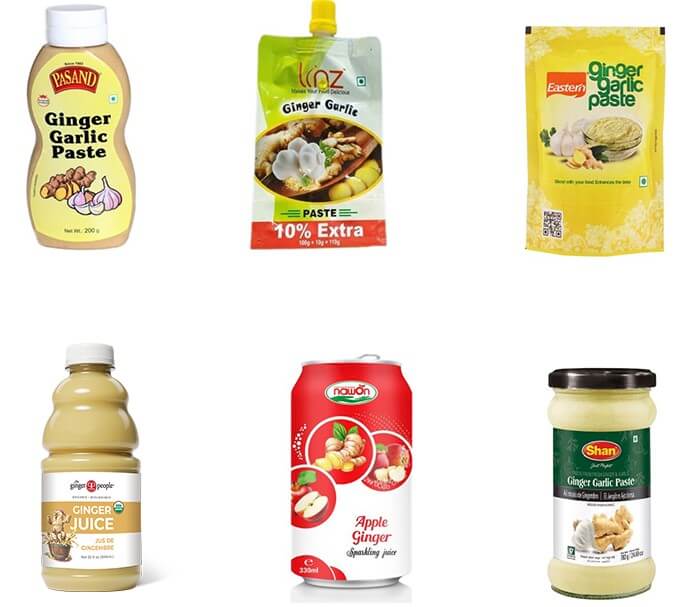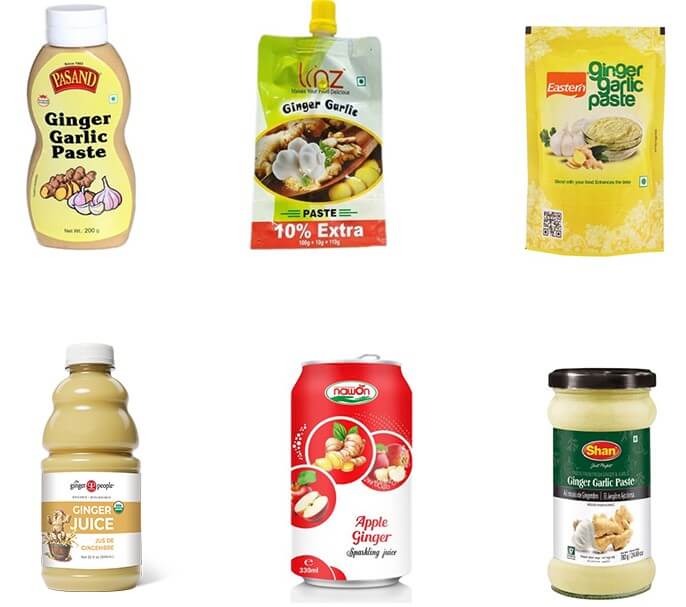 Ginger Garlic Production Line Technological Flowchart 
Ginger and garlic paste processing flowchart: Fresh ginger and garlic after peeling, then washing sorting, and after that the use one colloid mill to grind to get the paste. After that, the ginger and garlic paste will be mixed with other ingredients and flavors, then after homogenizing, degassing and sterilizing, finally, the end products will be filled into jars, bottles or other consumable containers.
Ginger juice processing flowchart: Fresh ginger after washing, sorting, crushing, then the ginger mash will be sent to the spiral juice extractor to get the ginger juice, then the ginger juice goes through the sieve screen filter, and blended with ingredients, after pasteurizing, homogenizing, then filling into bottles, sachets or other containers.
Ginger tea processing flowchart: Use ginger juice and tea extracts as main raw materials, then add brown sugar, water, flavors and other ingredients, after blending, homogenizing, pasteurizing/sterilizing, then filling into small containers like bottles, cartons, metal cans.
Ginger garlic powder processing flowchart: Use fresh ginger or garlic, after juice extracting, then vacuum evaporating, spray drying, and then the ginger garlic powder will be filled into pouches.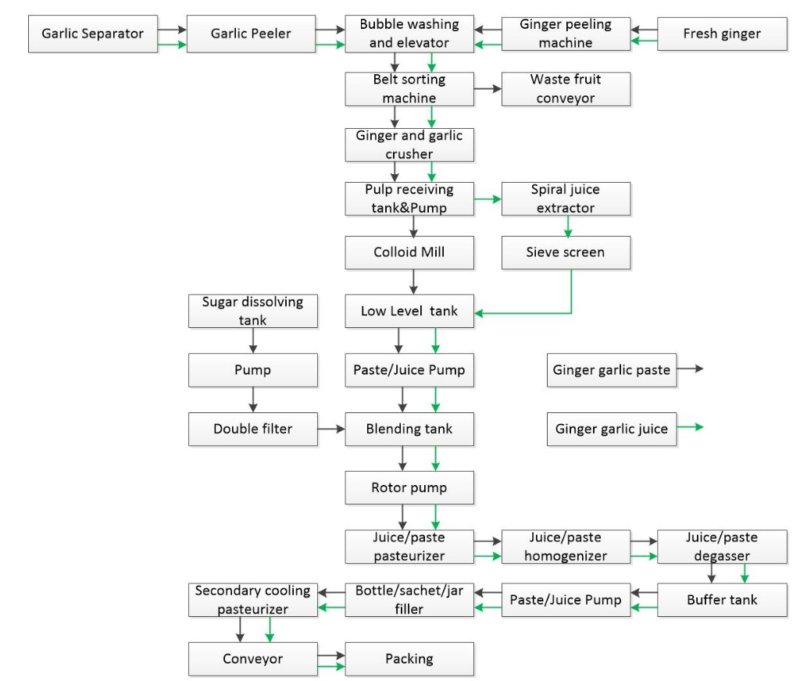 Key Machine Of Ginger Garlic Production Line 
Garlic Separator
The garlic splitting machine uses a soft roller that meets the quality assurance standard to simulate the hand peeling action, so that the garlic ball can achieve the peeling effect, and the gap of the rubber wheel can be adjusted. The size of the garlic ball can be used, and the garlic flap is not damaged. The advantage of high peeling rate. The device is easy to operate, and the built-in fan. garlic skin, garlic clove are automatically separated, and one person can operate. It is characterized by practicality, power saving, high production efficiency, easy maintenance and cleaning, and low failure rate.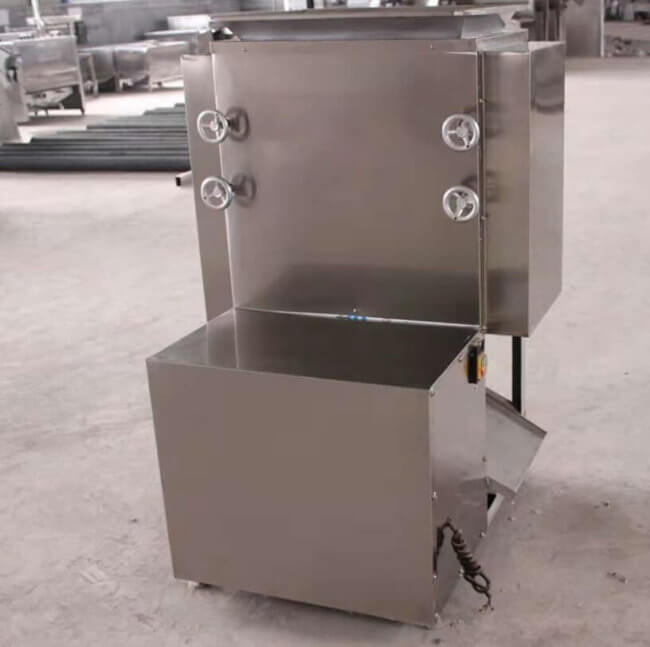 Garlic peeling machine 
The garlic peeling machine adopts the pneumatic principle to process the garlic after separation without any damage. The garlic flap can be peeled off without being soaked in water. In the case of dry garlic, the peeling rate can reach more than 95%. Garlic is automatically separated.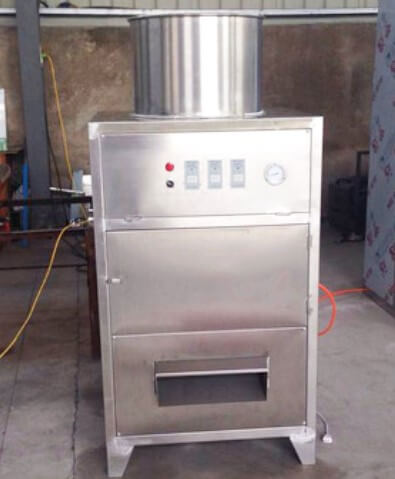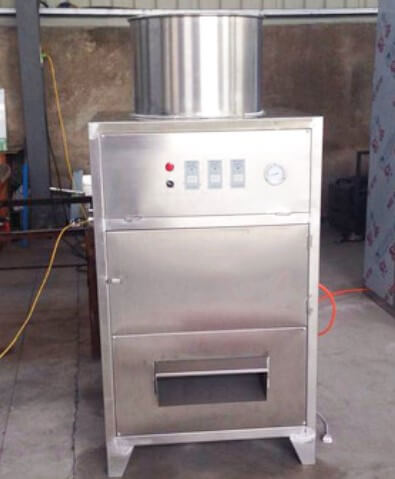 Ginger peeling and washing machine 
The rhizome brush cleaning machine is suitable for cleaning and peeling ginger. The whole machine is made of SUS304 stainless steel and equipped with a hard peeling brush, which can fully contact the ginger and the brush to achieve a complete peeling effect. The brush is adjustable in forward and reverse rotation, easy to disassemble, and easy to maintain.