Stand Up Pouch Filler
Stand Up Pouch Filler Application
full-auto stand-up pouch filling and capping machine series, is widely used to package liquid food or cream products, such as various diary products, yogurt, cream, plant-based milk, juice, liquid egg, sediment, beverage, food sauce and jam, fruit and vegetable juice/puree, medicine, etc., The machine is composed of stepping revolving, pouch feeding, spout cleaning, liquid material filling, cap sorting, cap feeding and cap screwing, pouch discharging etc. The machine is a new kind of foodstuff packaging equipment with reasonable structure and advanced performance and has been applied with PLC and HMI. The whole machine is made of SUS304 material, which fully meets the hygiene requirements of the food industry.
The stand-up pouch filling and capping machine is suitable for the filling and sealing of liquid, powder or paste in stand-up pouches with nozzles. It is widely used in food, beverage, brewing, medicine and other fields. For example filling and sealing of hydrogen-rich water, absorbent jelly, milk tea, yogurt, juice, soy milk, soy milk, condiments, sauces, condiments, beverages, laundry detergent and other foods.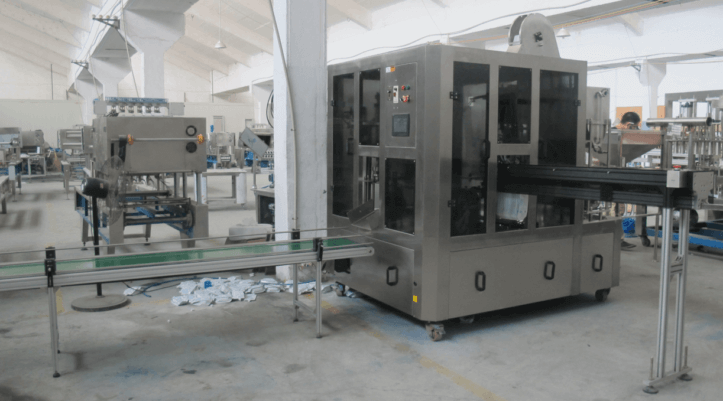 Stand Up Pouch Filler Feature
The horizontal packaging machine is beautiful and has high sealing strength.
The PLC computer control system makes the operation more stable and can adjust any parameters without stopping the machine.
Independent temperature control system, the accuracy can reach±1℃.
The horizontal and vertical sealing temperature is controlled independently, which can be well applied to various packaging materials such as composite film and PE film.
The machine is equipped with a photoelectric eye monitoring pouch filling device, no bag no filling, no cap can promptly alarm to remind the operator to check, adjust in time to avoid waste.
Pouch feeding, pouch spout cleaning, pouch filling, pouch sealing, pouch discharge, and date printing can be done at one machine.
The machine can be connected to CIP, all the machine parts are made of SUS304 material.
Filling volume 250ml-2500ml, filling temperature is 0-98℃.
PLC, touchscreen and other electronic control parts are all adopted by international famous brands like Mitsubishi, Schneider, Banner, Airtech brand to ensure the machine has steady performance and high efficiency.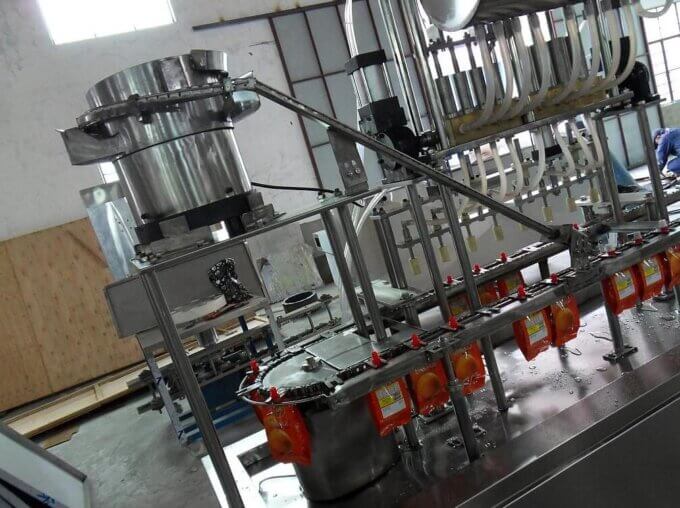 Stand Up Pouch Filler Work Flow
Pouch Feeding: The pouches will be fed to a pouch-sending rack by manual. (Each rack can hold 70 pouches per time) The machine will send the individual pouch to the conveying chain.
Examining 1: While the machine is examining the pouch's position whether good or not, if not, the corresponding filling head won't work.
Filling System: The filling system is driven by cylinder with volumetric measure; filling barrel capacity: 40~50L; filling adopts piston type, easy and convenient to clean and replace materials; all parts in contact with materials are made of 304 stainless steel; independent exhaust function is added.
Pouch Spout Cleaning: The pouch spout will be cleaning after sealing.
Cap sorting and Feeding: The caps will be added to the cap sorting device by manual. (700 pieces can be added each time.) The cap will be arranged orderly by the cap sorting device and be fed into the pouch spout.
Examining 2: While the machine is examining the cap whether steady or not, if not, it will start alarm and refuse to work.
Cap Screwing: The fed caps will be screwing automatically. The screwing device controls the screwing strength by permanent magnetic torque force.
Pouch Discharging: The finished pouches will be discharged automatically.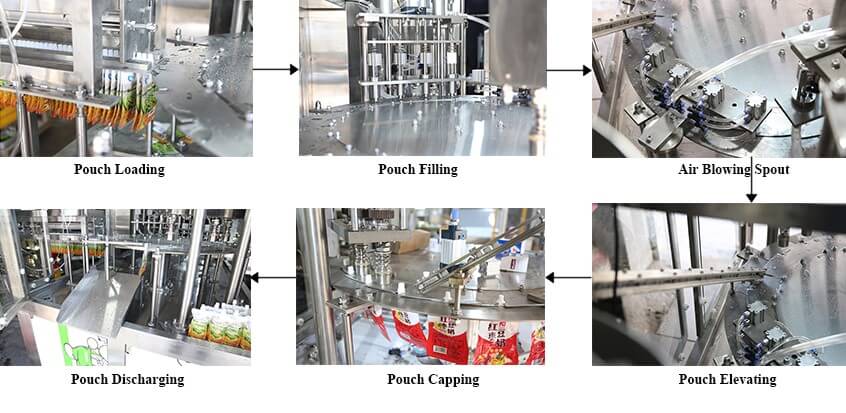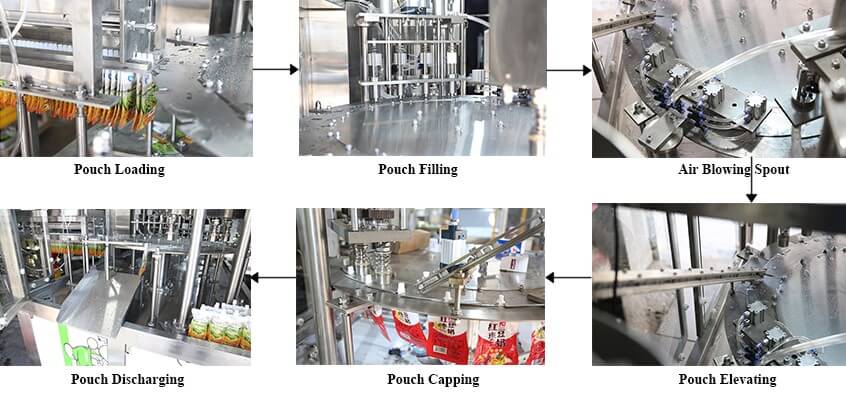 Stand Up Pouch Filler Technical Parameter
| Model | Filling Nozzles | Filling Volume | Filling Capacity |
| --- | --- | --- | --- |
| DGY-1D | 1 nozzle | 500-2000ml | 500-1200PCS/H |
| DGY-2D | 2 nozzles | 500-2000ml | 1000-2000PCS/H |
| DGY-3A | 3 nozzles | 100-300ml | 2800-3600PCS/H |
| DGY-4A | 4 Nozzles | 100-300ml | 4000-5000PCS/H |
| DGY-5A | 5 Nozzles | 100-300ml | 5000-7000PCS/H |
| DGY-8A | 8 Nozzles | 100-300ml | 7000-8000PCS/H |
| DGY-10A | 10 Nozzles | 100-300ml | 8000-12000PCS/H |
Video Performance