Film Shrink Wrapping Machine
Shrink Wrapping Machine Description 
The film shrink Wrapping machine is also called heat shrink packaging machine or shrink film wrapping machine, it uses PE films as packing materials to wrap PET or glass bottles, metal cans, brick cartons and other containers, after tunnel heating, the film shrinks into one package. It is widely used in food and beverage industry like bottled water and juice packing, tin can sauce packing and aseptic brick carton milk packing. Shrink package can Fully show the appearance of the products, improve the display ability of the product, moisture-proof, anti-pollution, and protect the goods from external shocks. This equipment is made of SUS304 material and full automatic control by PLC.
Shrink Wrapping Machine Composition  
Body Machine: The body machine mainly includes bottle separation mechanism and conveyor, Bottle separation mechanism, push rod chain, upper cutting film module, film wrapping chain, film unwinding module, conveyor belt, electric control box, operation panel, electrical pneumatic components and electronic control cabinet. The body machine can finish the process of dividing bottles, feeding film, cutting film, wrapping film and conveying package into the tunnel.
Heat shrink tunnel: The tunnel installs heating pipes, fan drive motor and stainless steel mesh belt. The heating temperature can reach 280℃, which can shrink the packaging well and efficiency.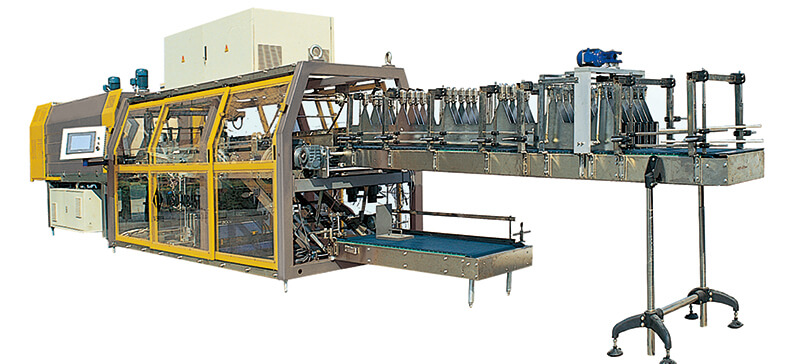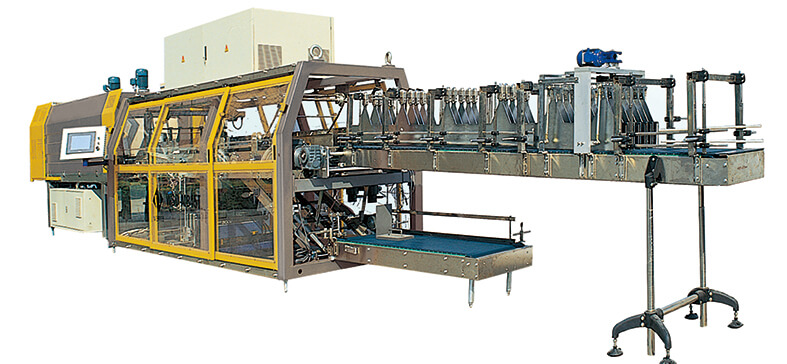 Shrink Wrapping Machine Feature 
Beautiful figure, novel configuration and easy repair. Electronic induction feeding film with stable and smooth transfer speed, replacing film quickly.
Unique film unwrap mechanism and constant tension film conveyor are adopted, featuring instantaneous film cutting, automatic film connecting and wrapping and higher strength after shrinking packaging.
During the product forward conveying process, it can automatically group the product into the package, so as to save time and enhance packaging efficiency.
Equipped with servo motor control system, bottle feeding, film cutting and film wrapping are accurate, synchronous, stable and reliable.
The super 10-inch LCD color screen has a friendly operation and control, and it is rapid for parameter setting.
Adopting air circulation technology, the shrinkage chamber features rational structure, heat insulation, high precision for temperature control and better packaging effects.
Speed regulation of transport systems by frequency variation, the transmission action is precise and synchronic.
The temperature of the sealing knife is adjustable. The operator can adjust it according to the material of film.
Photoelectric sensor automatically detects the product feed height and film cutting point.
The surface of the cutter is coated with Teflon to ensure a clear sealing line and no sticky film.
Customized package can be made like cardboard+ film packing, tray+ film packing, handle packing, only film packing and so on.
The packing speed is vary from 6 packs/min to 40 packs/min for you to choose.
The packing form can be 2*3, 3×4, 3×5, 4×5, 4×6 and other customized package.

Shrink Wrapping Machine Technical Parameter 
| Model | Technical Parameter |
| --- | --- |
| Packing Speed | 5 packs/min--45 packs/min |
| Film Material | PE, PVC, POF |
| Roll Film Width | ≤600mm |
| Roll Film Thickness | 0.06~0.12mm |
| Roll Film Diameter | ≤450mm |
| Sealing & Cutting Temperature | 190℃~230℃ |
| Shrink Temperature | 150℃~280℃ |
| Packing Form | 2*3, 3×4, 3×5, 4×5, 4×6 or other form |
| Packing Containers | Bottles, metal cans or aseptic brick cartons |
Video Performance