Aseptic Bag Filler For Fruit&Vegetable Juice/puree
Suitable Filling Products and Containers
The aseptic bags filling machine is specially designed for large-capacity filling, with a small footprint, high work stability and easy operation. Suitable for aseptic filling of fruit and vegetable juice, jam, paste, puree or concentrated products, dairy products and other viscous fluids. The packaging bag is made of aluminum-plastic composite aseptic bag (5-1000L), which can effectively block sunlight and oxygen; and extend product shelf life maximum.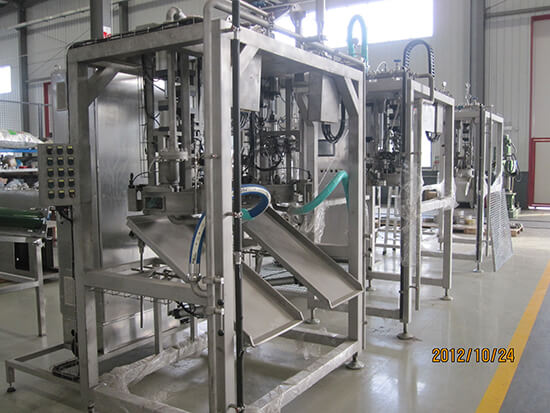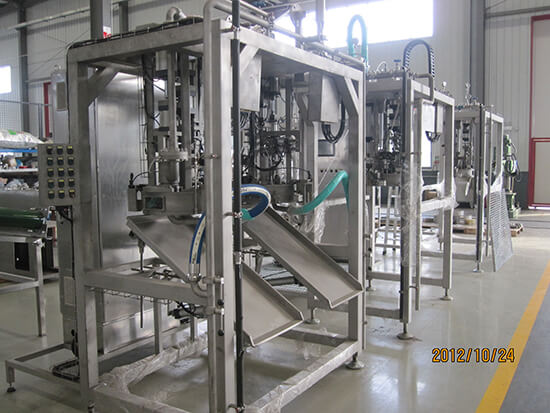 Aseptic Bags Filler Feature
1.The aseptic filling machine can be designed as single or double head. The double-headed filling machine can continuously fill, reducing backflow and improving production efficiency.
2. The real filling speed is relied on the material quantity from sterilizer, size of the aseptic bag and the working proficiency of workers.Normally single head machine can reach to 2-3 tons per hour, double heads machine can reach to 4-5 tons per hour.
3. The filling accuracy is related with the pressure changingfrom the aseptic tank, filling accuracy is measured by weighing sensor or flowmeter.
4.Used special designed devices with Italian technology, could easily guarantee the whole filling processing aseptic.
5.Filling Chamber is kept high temperature by steam as over 95℃, which means a aseptic chamber all the time. When operator gets the aseptic bag spout into the chamber, the spout would be sterilized by steam for few seconds, and the filling pipe too. These steps can highly guarantee an aseptic filling.
6.All flanges in the machine are special designed with steam protection, making sure the product in the pipe keeping aseptic.
7.The product hose, which is made in Italy, and approved by FDA in USA, is being used in the equipment, helping the filling head moving smoothly if needed.
8.The hose could be used in high temperature as 120℃, and high pressure as 10Bar(1.0MPa), which means SIP is easy and safe. The whole machine is controlled by PLC in the control cabinet. All filling steps would be performed automatically, all operator need to do is just put the bag spout into the chamber, and press the START button. In the meantime, all steps are being checked by proximity switches, making sure all steps could be performed one by one.
9.All parts working in the machine are from known brands with excellent and reliable performance, such as AirTAC cylinder, Spirax/Sarco steam valves, which could guarantee stable and long production time.
10.Operator could control the machine using the touch-screen very easily. All parameters are displayed on the screen and could be changed. SUS304 stainless steel cabinet, IP54 protection, all elements are made by known company, Siemens PLC, Schneider Touch-Screen, Omron elements, etc
11.The temperature adjustment system automatically adjusts the temperature of the filling room, and uses steam spray to sterilize the bag mouth and the filling room to ensure that the filling room is always in a sterile state; the electromagnetic flowmeter and weight measurement system adjust the filling volume And accuracy; the filled product can be stored at room temperature for more than two years. CIP (Cleaning in place) and SIP (Sterilizing in place) can be synchronized with the aseptic tube sterilizer.
12.Suitable for bag spout: 1 inch size ELPO or VITOP.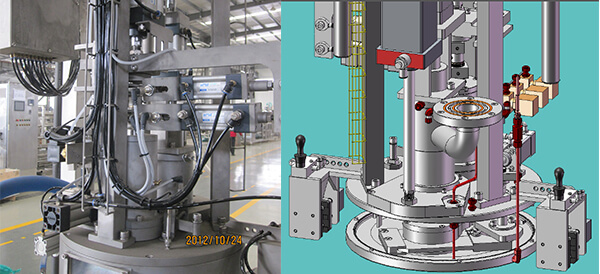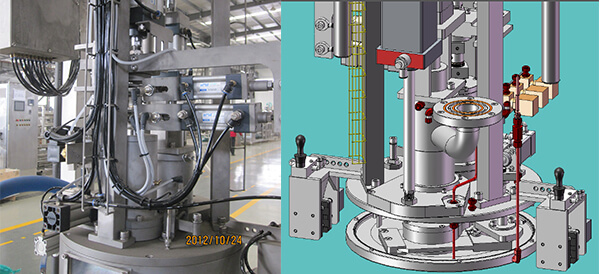 Aseptic Filler Composition
Aseptic filling machine adopts Italian technology, as long as it is composed of aseptic filling system, weight measurement system, roller conveyor system, computer PLC control system, online label printing system (optional) and operation platform. All stainless steel structure. The aseptic filling machine can be directly connected to the sterilization machine, and the products after UHT sterilization can be directly filled in aseptic bags.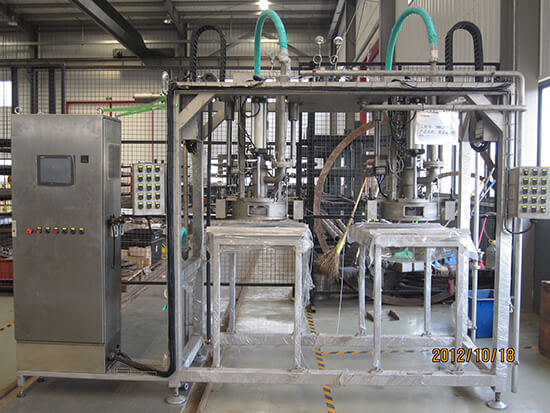 Machine Type
—Bag in Box(BIB) Filler: It is suitable for filling 5-25kg aseptic bags. And filling accuracy is controlled by the flowmeter.
—Bag In Drum(BID)Filler: It is suitable for filling 25-220kg aseptic bags. The material filling is measured by a weight sensor or flowmeter.
—Intermediate Bulk Container(IBC) Filler: It is suitable for 1000kg aseptic bags. The material filling is measured by weighing.