Grape Processing Line
Grape Processing Line Description 
1. Compared with fresh grapes, the juice extracted from fresh grapes has better digestion and absorption. It also contains nutrients such as vitamins, minerals, dietary fiber, and amino acids. It is good for the body after consumption such as relieve fatigue, nourish blood, prevent thrombosis, beautify the skin. Grape juice is often used to make wine, brandy or whiskey after fermentation. In the wine industry, grape juice is an essential product. Most of the grapes in the world are processed into wine, and a small part is processed into grape juice or raisins.
2. Grape juice processing plant includes fresh grape washing machine, grape sorting machine, grape destemmer and crusher machine, grape juice extracting machine, grape juice enzyme treatment tanks, grape juice separating machine, grape juice evaporating and sterilizing machine, grape juice filling machine, CIP system.
3. The whole grape juice processing machine is made of SUS304 material and equipped with CIP system to ensure the sanitary of the grape juice during processing.
4. The fresh grape can proceed into concentrated grape juice, NFC grape juice and red wine through fermentation according to clients different requirements. During processing, the machine has the feature of highly effective and synchronous, fully automatic, flexible, modular and customized.
5. The capacity of the grape processing equipment is from 1000kg per hour to 30000kg per hour. The end products can be filled into bottles, metal cans, carton boxes, pouches or bulk containers.
6. According to the characteristics of easy oxidative discoloration and heat sensitivity of grapes, our equipment adopts a fully enclosed and cold pressing method to obtain grape juice during the juice extraction process to ensure the optimum products.
Grape Processing Line End Products and Package 
Concentrated grape juice: The concentrated grape juice Brix value is 65-68, the end grape juice concentrate can be filled into bulk bags in drums, jerry can bottle, and it is widely used for making RTD grape juice, sweeten, wine as raw materials.
NFC grape juice: The NFC grape juice Brix value is 5-12, it uses fresh grapes as raw material. Fresh grape juice is obtained by mechanical pressing, then filtered, blended, sterilized and filled into small bottles, cans or cartons for direct consumption.
Red wine: The fresh grape after extracting or concentrated grape juice through filtration, then fermentation to obtain the wine and filled into the glass bottles.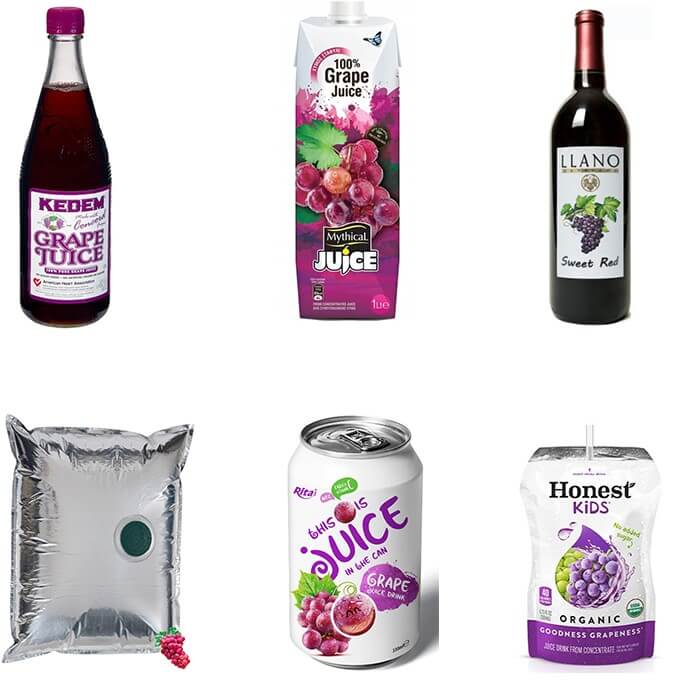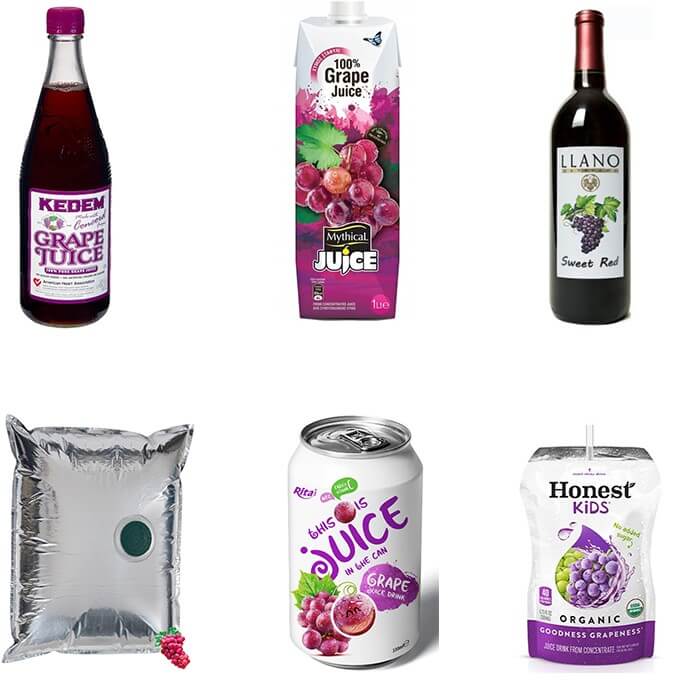 Grape Juice Processing Line Technological Flowchart
Fresh grape after harvesting, then use the drum washing machine to wash off the dust and leaves, then the grapes will be sent to sorting table for picking up the unqualified grapes, after that, the grape will be lifted to the grape destemming crusher to remove the grape stem and ground the grapes into mashes. To obtain a high yield, before the grape mash is sent to extractors, one tubular preheater is applied to inactivate the enzymes in grapes. For juice extracting, the vacuum membrane press or hydraulic press is the most popular method. After juice extracting, the grape juice will be pumped into enzyme treatment tanks, decanter centrifuge separator and disk centrifuge separator for juice clarifying and filtration, then we will get the high-quality clear grape juice. The grape juice can be evaporated, sterilized to make the concentrated juice, or can blended with ingredients, after pasteurized, then filled into a small consumable containers to make the NFC grape juice.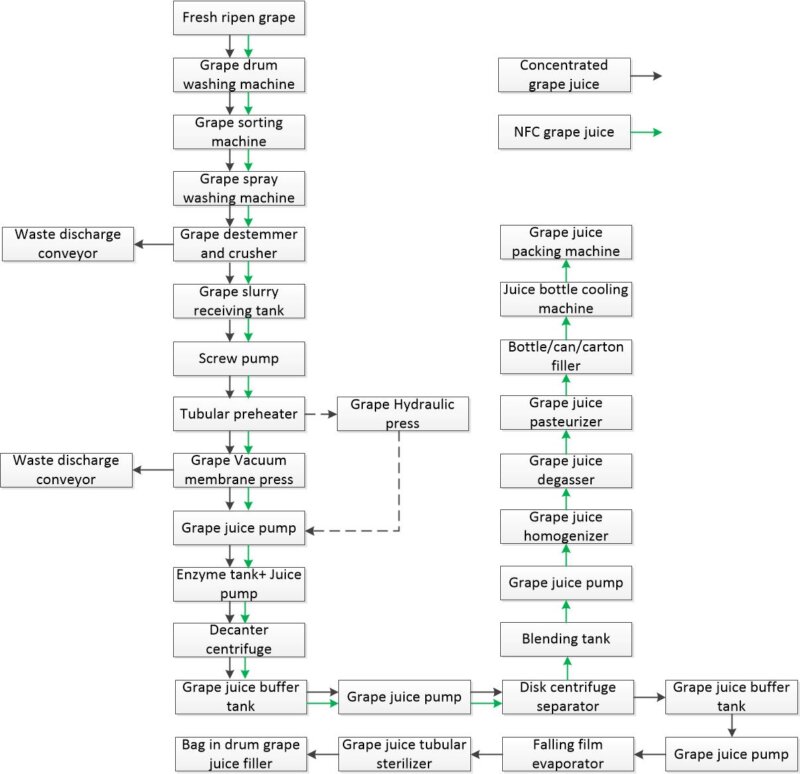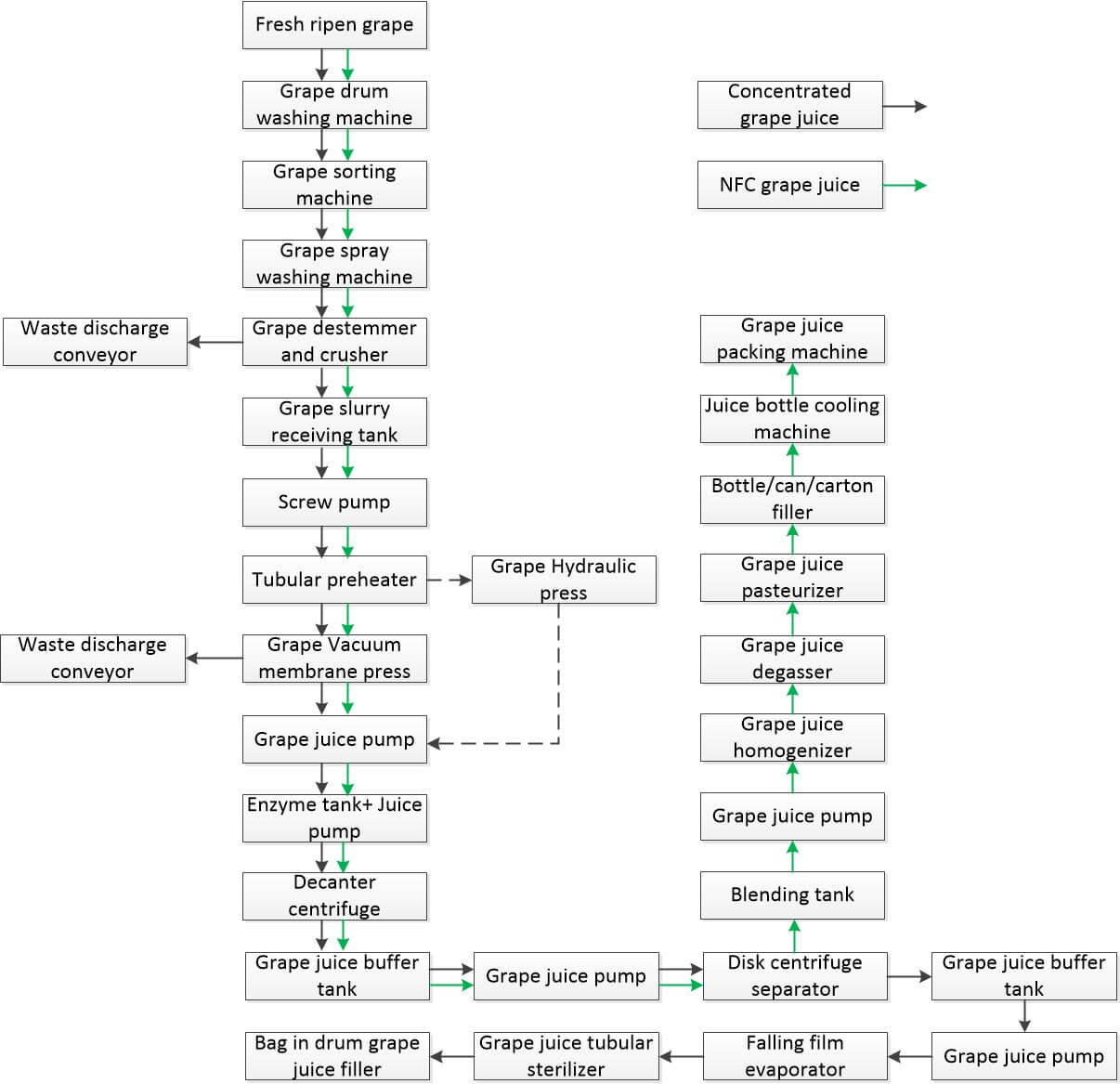 Grape Processing Line Key Machine Introduction 
Grape washing and sorting machine 
Soak the fruit in 0.03% potassium permanganate solution for 3 minutes, then rinse in running water. This step is to wash away the pesticide residues and dirt or insect eggs on the grape raw materials. We use a high-pressure spray cleaning machine, which consists of a mesh belt conveyor, a spray device,
water collection tank, and the material is conveyed into the spray area through a mesh belt, and is washed up and down under high pressure. Energy-saving and water-saving, and the flushing water is filtered and recycled for use.
The selected equipment is a stainless steel roller-type fruit inspection machine, which is suitable for round fruits and vegetables. The machine consists of a frame, a closed conveyor chain with rollers installed in the middle, a drive reduction motor, a chain transmission device, a bearing device, a main drive shaft, a slave drive shaft, a chain track, a roller track, etc. The main material of the equipment is made of stainless steel, the roller is stainless steel mirror tube, and the track is made of food-specific plastic and rubber, all of which comply with food hygiene standards.