Roller Juice Extractor
The Application Of Roller Half Cutting Juice Extractor
This roller half cutting juice extractor also called poly press juice extractor, which absorbs Italy advanced technology, it allows for peeling and extracting of fruits simultaneously. it is suitable for citrus fruit, passion fruit, guava, papaya, pomegranate, pineapple juice extracting. Raw fruits after washing, no need to peeling, they can be directly fed into the extractor to finish peeling, juice extracting process.
Working Process 
Fresh fruits feed into fruit hopper by one elevator, then the horizontal knife fixed between two rolling cylinders cuts the fruit into two halves. Then the half fruit is dragged by the rolling cylinders to the squeezing channels, where the juice comes out and is filtered through a perforated stainless steel screen mesh, then filtered juice is discharging into the juice tank. And the peels and slags are discharged by the SUS304 screw conveyors at the machine two ends.
Structure Of Roller Half Cutting Juice Extractor
SUS304 juice squeezing drum rollers and screen
SUS304 Material feeding hopper
Roller gap adjusting structure
Machine base support
Screw slagging and peel discharging mechanism
Electronic motor
Juice collecting tank
Pressure adjusting device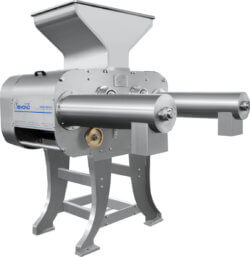 Characteristic
The juice extraction is adopted to the squeezing method, which solves the bitter taste and peel residues left in the traditional citrus juice extracting.
The squeezing and conveying juice in the full closed environment, which can avoid juice pollution during the processing.
The squeezing pressure can be adjusted according to different kinds of fruits and fruits' ripen degrees.
It can suitable for various kinds of fruits like citrus, passion fruit, pineapple and so on. When changing fruits, we only need to change little spare parts and adjust the gap between two rollers.
All the juice contact parts are made of food-grade SUS304 material to ensure the sanitary of the juice.
Fruit size range from 25-140mm, and juice yield rate from 40%-45% according to different fruits and fruit pulp content.
Machine support is designed with whole frame welding structure, good rigidity and small vibration.
Compact structure, small floor space, reliable operation; Optimized design of each component makes cleaning and replacement more convenient.
All stainless steel manufacturing, comply with food hygiene standards. Installed in the processing line, automatic production with low labor intensity.
The press roller has protruding needles on the surface to grab the fruit.
The press roller and the sieve are half crescent shape, and the gap gradually decreases from large to small, which can squeeze the pulp well.
Automatic separation of fruit pulp and peel, high production capacity, the gap between extraction roll and filtration net will be adjusted according to different fruits, meet the requirements of production.
Wide adaptability of fruit size from 25-140mm is available for fruit juice extracting.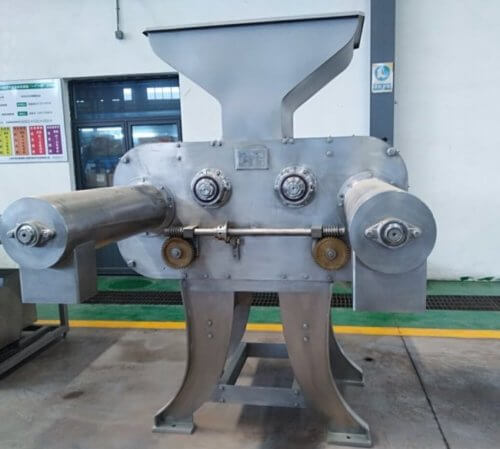 Technical Parameter
| Model | Capacity | Size | Press Roller Diameter | Power |
| --- | --- | --- | --- | --- |
| ZZJ-2 | 2T/H | 1900*1280*1850mm | φ320mm | 3KW |
| ZZJ-5 | 5T/H | 2240*1495*2240mm | φ395mm | 5.5KW |
| ZZJ-10 | 10T/H | 2500*1800*2650mm | φ485mm | 11KW |
Video Performance