Food Grade SUS304/316L Storage Tank 
Introduction of The Food Grade SUS304/316L Storage Tank 
The food-grade SUS304/316 storage tank is widely used in many fields such as dairy engineering, food and beverage engineering, fruit and vegetable juice engineering, beer engineering, fine chemical engineering, biopharmaceutical engineering, and water treatment engineering. A newly designed storage device has the advantages of easy operation, corrosion resistance, strong production capacity, convenient cleaning, and shock resistance. It is one of the key devices for storage and transportation materials in production.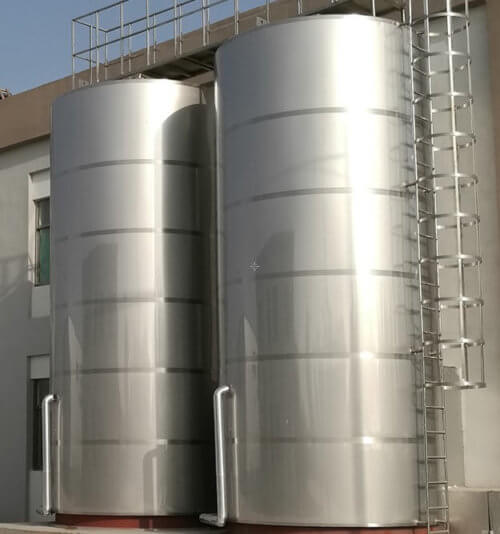 Structure of SUS304/316L Storage Tank
1. The stainless steel storage tank equipment has a reasonable design, advanced technology, automatic control, and meets the requirements of GMP standards. The tank body adopts vertical or horizontal single-layer, double-layer thermal and three-layer heating structure, and can be filled with insulation materials according to user requirements.
2. According to different storage capacity, 50-15000L storage tanks are available. Above 20,000L storage tanks are recommended installed in outdoor. The material is made of SUS304 imported stainless steel.
3. The storage tank has good thermal insulation performance. The attached equipment of the tank is as follows: mixer, CIP cleaning head, manhole, temperature sensor, liquid level indicator, germ-proof breathing hole, aseptic sampling port, inlet and outlet and so on.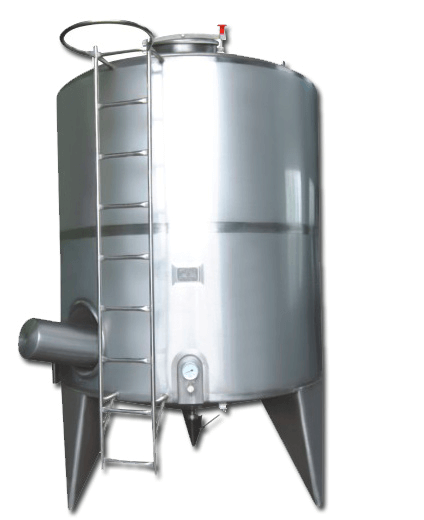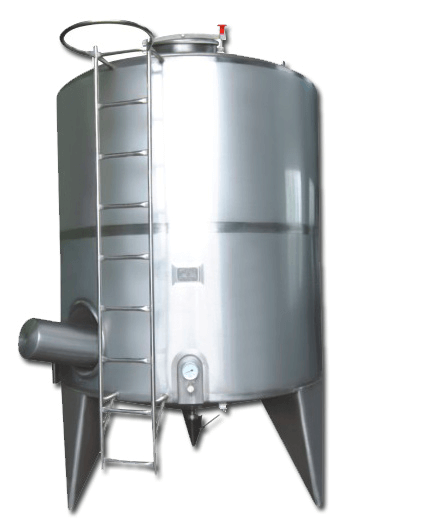 SUS304/316L Storage Tank Configuration
Folded microporous membrane air filter (removes ≥0.01μm bacteria)
Liquid level gauge interface (static pressure sensing type, ultrasonic, glass tube side position for selection)
Thermometer and flowmeter interface (temperature sensor, flow valve)
Exhaust and safety valve interface (connected with respirator with sterile filter)
Sterile ventilation interface for steam sterilization filtration
CIP Cleaning ball interface (360-degree rotation under low pressure)
Inlet and outlet of liquid material (quick-loading)
Single-layer or double-layer insulation tank or triple-layer tank can be designed according to clients requirements.
Airtight manhole
Sight glass
Light hole
Sanitary sample valve
Discharge valve with union
Adjustable legs or skirt-base bottom are available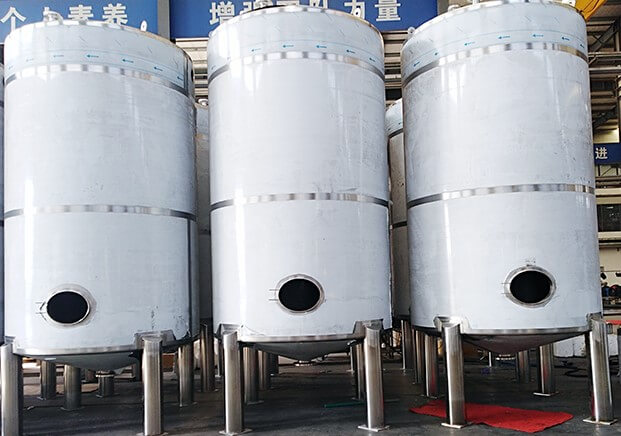 | Model | Volume | Size(D*H) | Diameter of Inlet&Outlet |
| --- | --- | --- | --- |
| BDG-500 | 500L | φ800*H2140mm | φ38/φ51mm |
| BDG-1000 | 1000L | φ1050*H2380mm | φ38/φ51mm |
| BDG-1500 | 1500L | φ1180*H2550mm | φ38/φ51mm |
| BDG-2000 | 2000L | φ1340*H2760mm | φ38/φ51mm |
| BDG-3000 | 3000L | φ1540*H3050mm | φ38/φ51mm |
| BDG-4000 | 4000L | φ1650*H3200mm | φ38/φ51mm |
| BDG-4000 | 4000L | φ1650*H3200mm | φ38/φ51mm |
| BDG-5000 | 5000L | φ1780*H3250mm | φ38/φ51mm |
| BDG-6000 | 6000L | φ1900*H3350mm | φ38/φ51mm |
| BDG-8000 | 8000L | φ2060*H3800mm | φ65/φ51mm |
| BDG-10000 | 10000L | φ2300*H4050mm | φ65/φ51mm |
| BDG-12000 | 12000L | φ2520*H4450mm | φ65/φ51mm |
| BDG-15000 | 15000L | φ2540*H4700mm | φ65/φ51mm |