Retort Sterilizer
Performance characteristics of Retort Sterilizer
A small amount of process water is quickly circulated to quickly reach the predetermined sterilization temperature.
Reduce steam consumption. Steam and atomized water are directly mixed in the retort sterilizer to increase the speed of temperature rise and reduction.
Low noise, creating a quiet and comfortable working environment.
The kettle is equipped with four movable temperature sensing probes, which can monitor the F value of the food center and the heat distribution in the kettle at any time to understand the heat penetration.
Perfect pressure control, especially suitable for products containing gas packaging.
Optional automatic door opening
Single-pot spray type (inter-rise and inter-cool) high temperature and high-pressure conditioning sterilization kettle
The full-function sterilization kettle is suitable for all kinds of high-temperature-resistant packaging materials:
Suitable containers: glass bottle container, tinplate cans, aluminum cans, PP bottles, HDPE bottles, aluminum foil bag, transparent bag, vacuum bag, high-temperature cooking bag, etc.
Indirect heating and cooling: the cooling water and process water are not in contact, avoid secondary pollution of food. Without using water treatment chemicals, sterilizer at high temperature for a short time.
Sterilizing temperature and sterilizing time can be adjusted according to technological process requirements.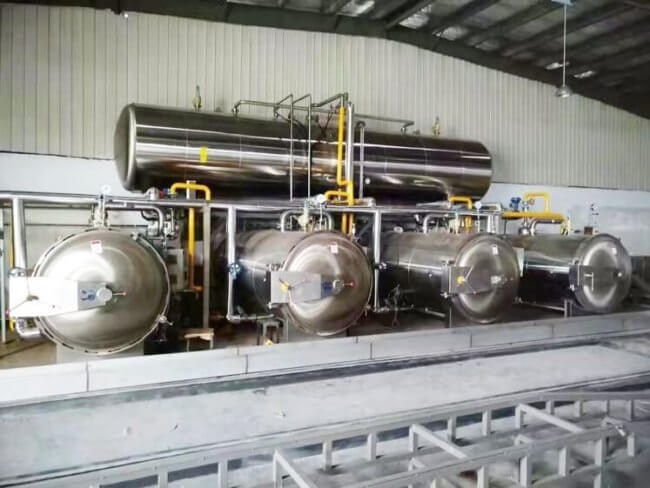 Equipment Composition and Working Process
Full automatic retort sterilizer is composed of automatic cage loading and unloading system, food basket, Trolley, Retort body machine, Rail track.
Firstly the tin can will load into cages automatic, then after basket is full, the basket will transfer to retort through track, the retort door will open automatically after detected the food basket close to the door. Thirdly the retort will start sterilizing and after finished sterilizing,  the retort kettle door will be open and the basket will be transferred out of retort by track rail and loaded into conveyor again.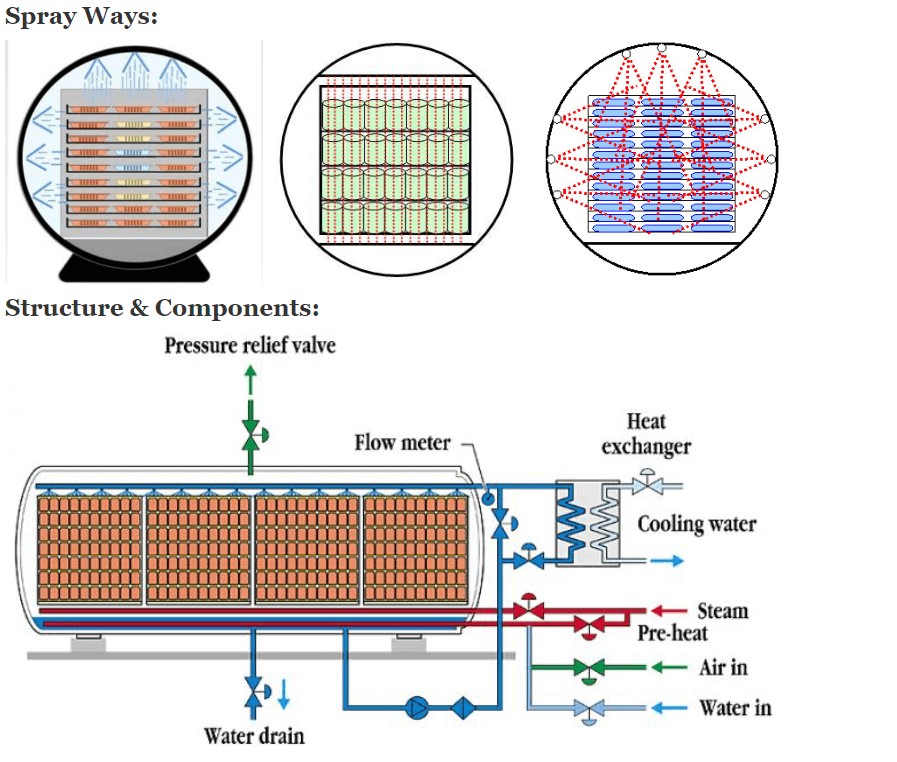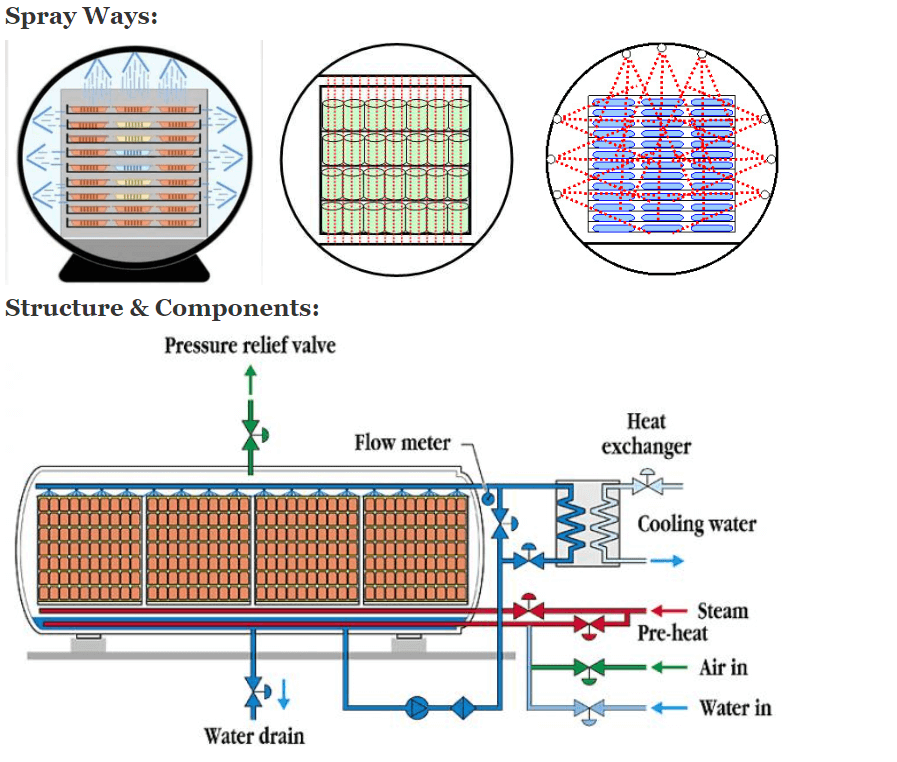 Retort Sterilizer Type 
—Heating Material: Stationary retort sterilizer for low viscosity liquids such as milk, juice; Rotatory retort sterilizer for high viscosity products such as porridge.
—Structure Type:  Single layer spray type sterilizer and double layer water bath type sterilizer.
—Control Mode: Semi-automatic and fully automatic.
—Heating Source: Electronic heating and steam heating.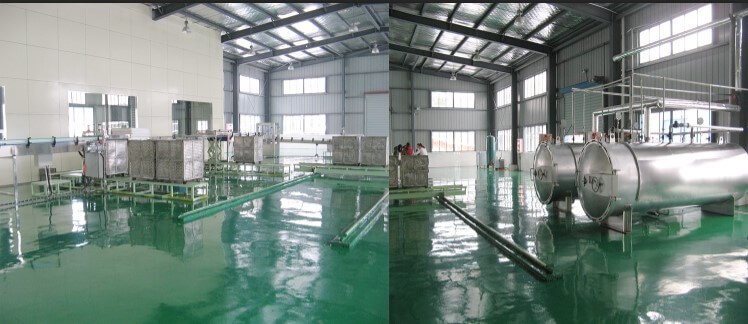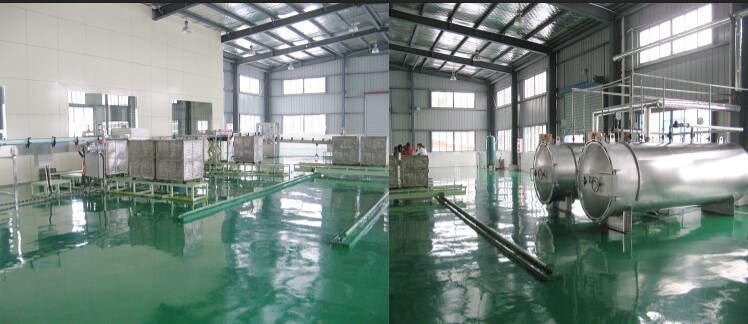 The use of retort sterilizer to sterilize food and beverage can effectively extend the shelf life of products, it is widely used to sterilize milk or juice, porridge, chicken and duck products, braised meat, pork trotters, dried beans, sausages, fruit jams, braised eggs, and other products.
Suitable containers:
Bottle containers: PP bottles, HDPE bottles, Glass bottles
Soft bag packaging: tin foil bag, transparent bag, vacuum bag, high-temperature cooking bag, etc.
Mental Cans: Tinplate cans and aluminum cans


Model
RS-2400
RS-3200
RS-3600
RS-4000
RS-4500
RS-5250
RS-6300
Total Length(mm)
3900
4200
4600
6000
6700
7500
8400
Cylinder Length(mm)
2400
3200
3600
4000
4500
5250
6300
Total Width(mm)
1500
1600
1600
1600
1800
2350
2350
Total Height(mm)
1700
1900
1900
1900
2100
2400
2400
Capacity(m^3)
2.2
4
4.6
4.9
6.5
10
11.8