SUS304/316L Blending/Mixing Tank 
Blending/Mixing Tank Use Application
The blending/mixing tank is used to stir, mix, blend, and homogenize materials. The stainless steel mixing tank can be standardized and humanized in design and configuration according to the requirements of the production process. During the mixing process, the mixing tank can realize feeding, discharging, stirring and other manual and automatic control.
Stirring tanks can be used for heating, cooling, heat preservation, stirring, and metering, and are widely used in coatings, chemical, medicine, food&beverage industries. According to the requirements of production and technology, heating, cooling, low-speed stirring system, sealed pressure-bearing systems, vacuum systems, and the metering systems can be designed. According to the different mixing materials and the required mixing effect, the structure of the mixing paddle can be adjusted to design the turbine type, paddle type, anchor type, frame type, ribbon type, magnetic type mixing and so on. According to the proportion of the material and the state of the material, weighing and batching can be selected, and flow metering or level measurement can be selected for batching.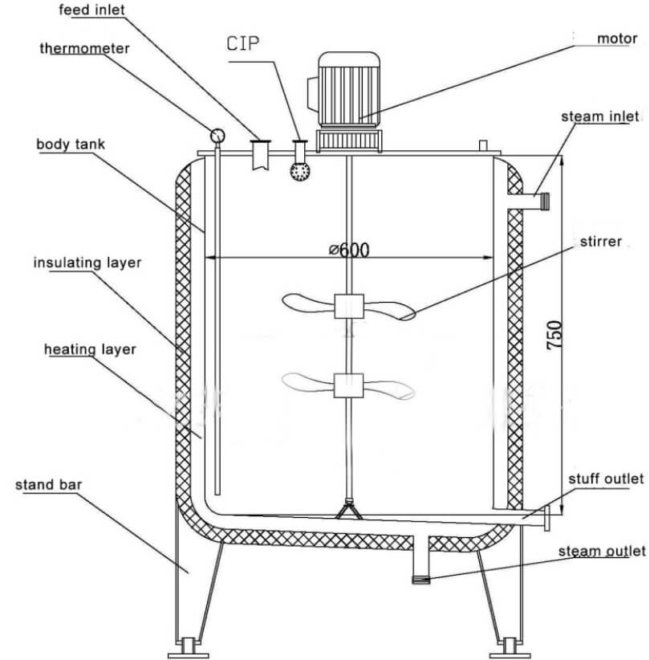 Blending/Mixing Tank Structure
The Blending/mixing tank is composed of a mixing tank body, a mixing tank lid, a stirrer, a support, a transmission device, a shaft sealing device, etc., and a heating device or a cooling device can be configured according to the process requirements.
The mixing tank body and the mixing tank cover can be connected by flange sealing or welding. The mixing tank body and the cover of the mixing tank can be opened for feeding, discharging, observation, temperature measurement, pressure measurement, steam fractionation, safety venting and other process tube holes according to process requirements. The upper part of the mixing tank cover is provided with a transmission device (motor or reducer), and the mixer in the mixing tank is driven by the transmission shaft. Due to the different production process requirements of the user, the stirrer can be configured in various forms such as paddle type, anchor type, frame type, and spiral type.
equipment accessories configuration: quick-opening sanitary manhole, light mirror, thermometer, respirator, CIP cleaner, material liquid inlet and outlet, sampling port, SIP sterilization port, liquid level sensing port, cold and hot media inlet and outlet And other interfaces.
The configuration of the mixing tank system mainly includes transmission devices, mechanical seals, temperature control devices, spotlights, sight glasses, mixing devices, manhole feeding ports, cleaning balls and steam inlets, condensate water outlets, material outlets, sewage outlets, sampling ports, 360 ° universal cleaning ball, some also have weighing devices, liquid level measuring devices, etc.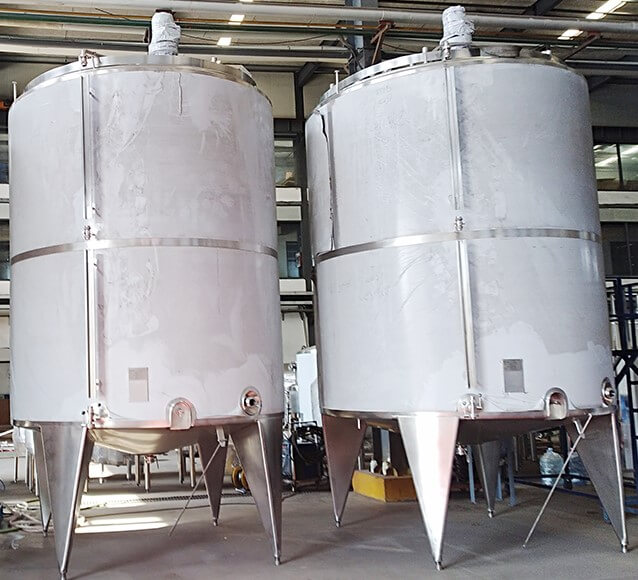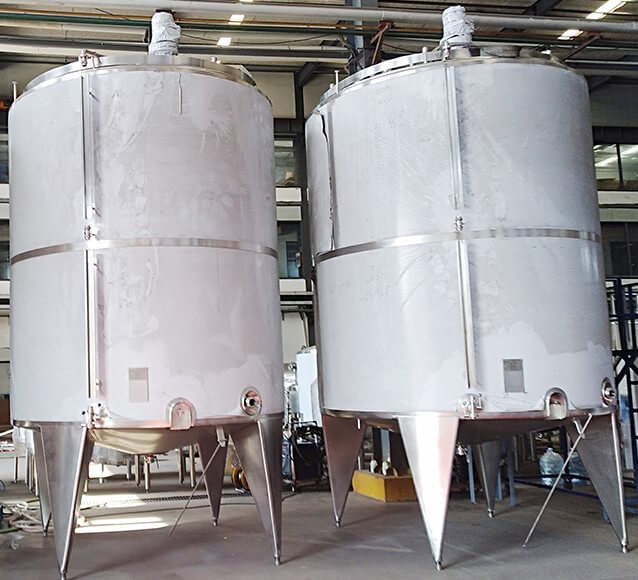 SUS304/316L Blending/Mixing  Feature 
1.Heating method: The first type: the electric heating pipe is inserted into the jacketed tank, and the jacket uses heat-conducting oil or water as a heating medium, and the heating is uniform;  The second heating method: steam heating in the jacket or coil. Steam heating in the jacket is a pressure vessel. Generally, it is recommended to use an outer half-pipe steam heating to save costs;  The third heating method: cyclic heating of the heating medium, that is, the medium is heated to the required temperature by other heating devices, and then circulated by the pumping equipment. Circulation pipelines need to be insulated to prevent heat loss and keep high temperatures.
2.Material heating temperature: ≤320 ℃. According to the temperature requirements and heating time requirements, different heating methods are used, equipped with different power electric heating tubes or steam heat sources with different pressures or different temperature heat media.
3.Temperature control: thermocouple and thermal insulation or PID constant temperature control, constant temperature control temperature difference ± 1 °. According to the needs, you can choose a digital display thermometer for temperature display or a temperature sensor with a temperature controller or a two-point temperature measurement method for temperature control and display.
4. Stirring tank body: the inner surface is mirror-polished, and the fine polishing Ra≤0.4μm. The outer surface is made of mirror or 2B cross-grain plate.
5.Upper cover: Two openable movable covers (lower sloping bottom structure, or lower cone bottom (or oval, butterfly head) structure) are convenient for cleaning. You can also choose upper and lower tapered head structure or upper and lower oval (Or butterfly) head structure. The inner surface is mirror polished (roughness Ra≤0.4μm), and the outer surface is mechanically polished to Ra≤0.8μm.
6.Tank bottom structure: It is processed into R angle after spinning, and there is no dead angle after welding and polishing with the inner tank body, and it is inclined at 5 ° toward the discharge port, which is convenient for discharging materials without residue.
7.Jacket type: Different jacket types are selected according to different heating methods, including full jacket, half-tube jacket, and detachable jacket.
8.Insulation material: It is filled with pearl cotton, rock wool or polyurethane, which can keep the temperature difference with the outside world to achieve the effect of heat insulation.
9.Outer shell surface treatment: mirror-polished or 2B matte or 2B matte.
10.Stirring device: the top (eccentric) stirring, the reducer output shaft and the stirring paddle shaft are connected by a detachable coupling for easy disassembly and cleaning.
11. Stirring speed: 15 ~ 120r / min (fixed speed or customized); Stirring paddles according to process requirements: frame type, anchor type, paddle type, turbine type, etc. are optional or designed according to customers' special requirements
12. Mixing tank configuration: electrical control box (including thermometer, liquid level measurement, pressure display, switch, indicator, spotlight switch, etc.), manhole, inlet and outlet, hot and cold media inlet and outlet, spare port, cleaning Port, sterilization port, sampling port, temperature gauge port, pressure gauge port, vacuum port, etc.
13. Stirring tank material: inner tank SUS304 or SUS316L; jacket is Q235-B or SUS304; outer insulation shell isSUS304.
14. The process openings of the inlet and outlet pipe openings and the welding of the inner tank body adopt the flanging process and arc transition, which is smooth and easy to clean without dead corners, and the appearance is beautiful.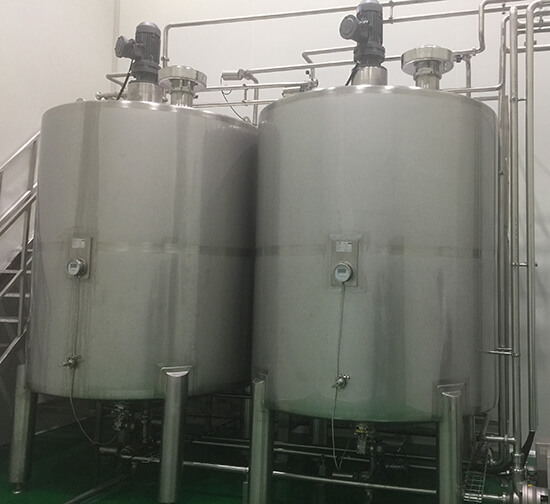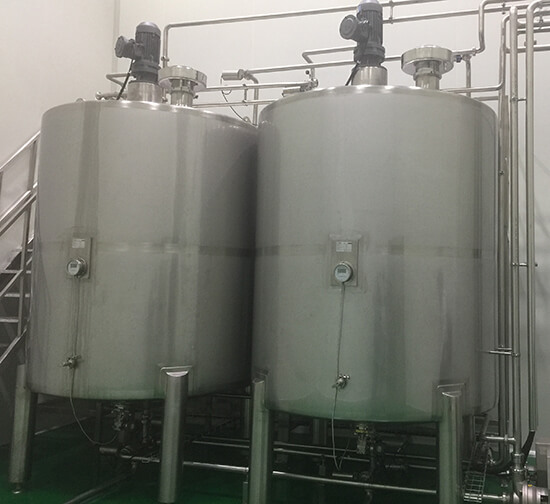 SUS304/316L Blending/Mixing Technical Parmeter
Nominal volume: 100L, 300L, 500L, 1000L, 2000L, 3000L, 5000L,8000L, 10000L,15000L,20000L
Inner diameter size (mm): 500, 800, 900, 1100, 1400, 1500, 1600,1800, 2100,2200,2300
Heat exchange area (m2): 0.9, 2.0, 2.7, 4.5, 7.5, 10.0, 13.5, 22,25,27
Stirring power (KW): 0.55, 0.75, 1.5, 3.0, 4.0, 5.5, 7.5, 11.0
Speed ​​(r / m): constant speed or variable frequency speed regulation
Working temperature : 0-180 ℃
Jacket heating / cooling medium: steam / cooling water / thermal oil / other refrigerants
Measurement method: weighing ingredients or level measurement or flow measurement
Insulation material: Polyurethane
Nozzle configuration: can be designed as required under conditions
Tank material: SUS304 / 316L
Material characteristics: PH value, viscosity, boiling point, toxicity, solid-liquid ratio, etc.
Operating conditions: temperature, pressure, etc.
Structural form: vertical, horizontal, tiltable, mobile, platform installation optional
Heating method: electric heating, steam heating, circulating heating, coil optional
Heating medium: water, thermal oil, steam optional
Jacket form: hollow jacket, honeycomb jacket, semi-circular tube jacket, detachable jacket
Insulation material: pearl cotton, rock wool, polyurethane optional
Paddle type: paddle type, turbine type, anchor type, frame type, etc. or magnetic stirring
Surface treatment: mirror, brushed, 2B