Pomegranate Peeler and Deseeder
Pomegranate Peeler and Deseeder Description
Pomegranate peeling and separating machine is the equipment designed and manufactured by our company through introducing (adopt) international advanced technology. It has such features as novelty compact, energy conservation and high production efficiency etc. It is suitable for peeling and separating fruit pulp from fresh pomegranate and granadilla fruits, It is an necessary equipment for the pretreatment of pomegranate juice processing plants.
The machine is mainly composed of feed hopper, upper crushing device, lower crushing device, rotating screen, stirring shaft, screw pump, frame and other components. This machine is made of SUS304 stainless steel. The stirring shaft adopts frequency conversion speed regulation.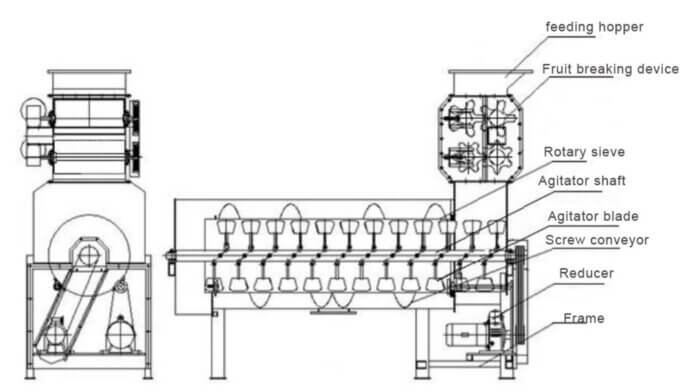 Pomegranate Peeler and Deseeder Working Principle 
The pomegranate enters the upper crushing device from the hopper, the pressure between two compression rollers in upper crushing device will press the pomegranate to open, the whole pomegranate is chopped into several small pieces. The upper crushing device is made of stainless steel 304, and the gap between the two rollers can be adjusted to 20-30mm. Then it enters the lower crushing device for the second crushing. The lower crushing roller is made of food-grade rubber roller, which has less damage to the pomegranate skin. The gap between the two rollers can be adjusted to 10-20mm. After two stages of crushing, the pomegranate that has been basically separated from the skin and seeds will fall into the frequency-adjusted separation device. The separation device is a combination of a rotary screen and a separation shaft. Under the rotation of the separation shaft and the rotary screen, the pomegranate seeds and the juice falls out of the sieve, pass through the discharge port and are pumped to the juicer for juice extraction, and the pomegranate peel is discharged from the end of the equipment.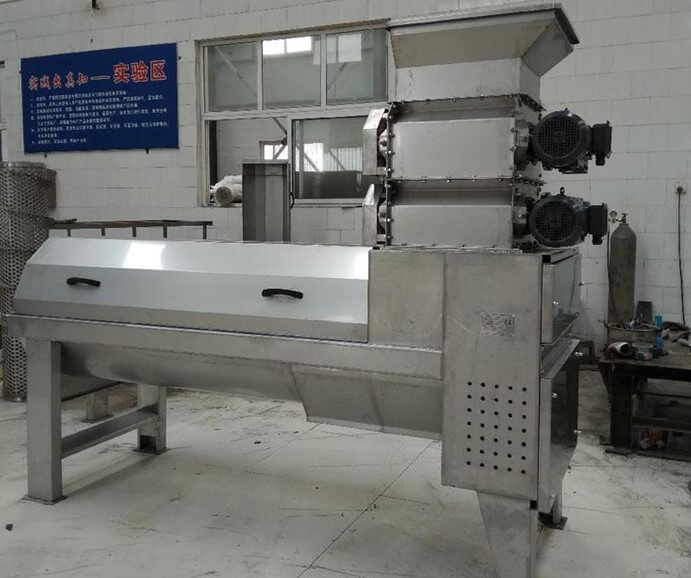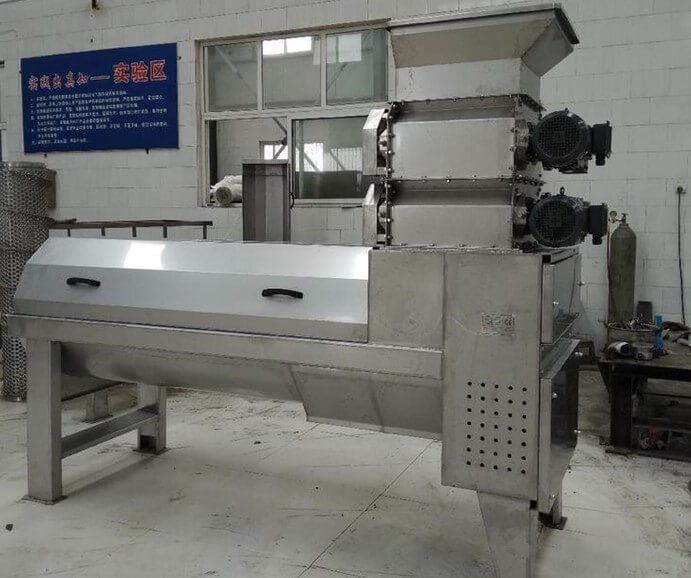 Pomegranate Peeler and Deseeder Feature 
The gap between the upper and lower crushing rollers is adjustable, and the crushing rollers are of elastic structure.
The upper and lower crushing device is changed to the upper and lower cutting device, which can be used to separate the peel and pulp of passionflower, lemon, etc.
Adjustable speed of mixing shaft and rotating screen.
The separation rate of pomegranate skin and pulp:≥97%; Skin damage rate:≤1%.
The capacity of the machine is from 1T/H-10T/H.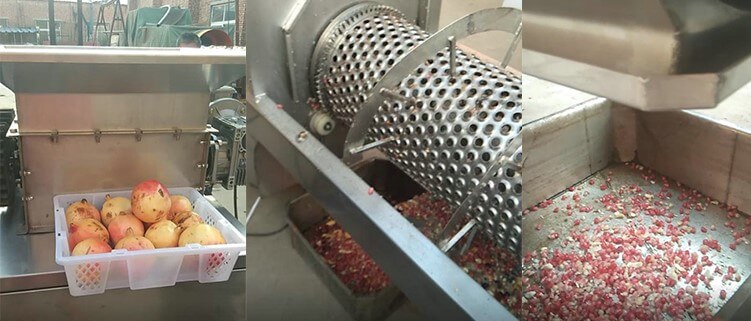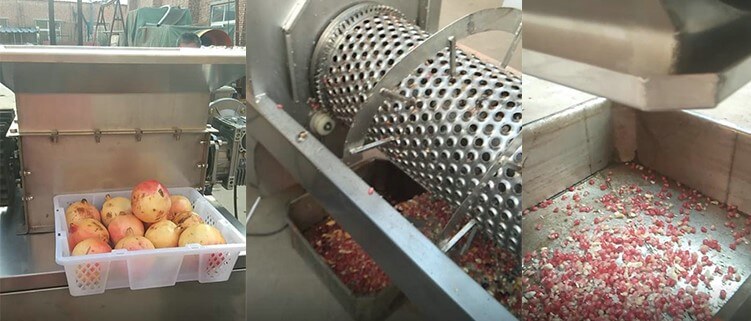 Pomegranate Peeler and Deseeder Technical Parameter 
| Model | BFJ-2 | BFJ-5 | BFJ-10 |
| --- | --- | --- | --- |
| Capacity | 1-2T/H | 3-5T/H | 8-10T/H |
| Rotating Screen Diameter | φ300mm | φ400mm | φ700mm |
| Rotating Screen Speed | 9.4RPM | 9.4RPM | 9.4RPM |
| Power | 4.8KW | 4.8KW | 11KW |
| Size | 2105*886*1900mm | 2140*900*2030mm | 2600*1000*2200mm |
Video Performance