Four Side Sealed Sachet Filler
Four Side Sealed  Sachet Filler Application
Four sealed sachet/ bag filling machine is suitable for packing loose, non-sticky powder and viscosity liquid material in the pharmacy, food, and chemical industries. Such as flour, coffee powder, starch, milk powder, all kinds of drugs, chemical powder, tomato paste/sauce, fruit paste, butter, and other high viscosity liquid products.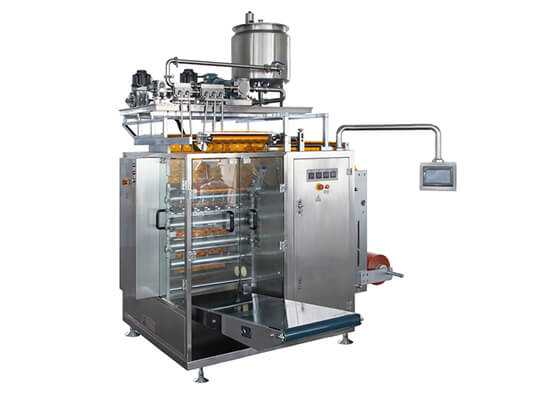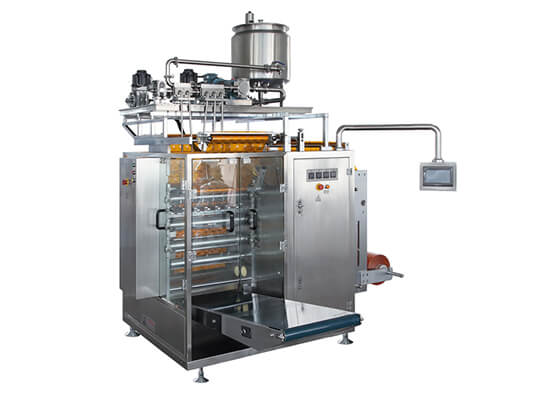 Four Side Sealed Sachet Filler Character 
Advanced performance, high strength, low noise, compact structure, stable operation and long service life.
Adopt five-axis servo synchronous drive, touchscreenadjustment on the man-machine interface, and control each parts accurately and Synchronize by PLC.
High degree of automation, the machine can complete the one-time operation from vertical sealing, vertical cutting, horizontal sealing, filling, coding, easy tearing incision, cutting dotted line, horizontal cutting until the output of the finished sachet.
Adopt high-precision integral rolling heat-sealing roller as the sealing mold. Four sides sealed, multi-row bag form. As the sauce material is prone to leak at the seal of the bag, a non-textured flat seal sealing roller is added to ensure the tightness of the seal. And the packaging speed is fast, the bag shape is flat, delicate and beautiful, and the packaging efficiency is high.
Quick and easy adjustment. Stepless adjustment of bag length is possible without changing the mold. And the vertical seal, horizontal seal, stuffing, batch numbering, cutting dotted line, cross-cutting and other actuators can be adjusted through the man-machine interface.
Accurate filling measurement. Aiming atsaucematerials with different viscosity, a reciprocating piston pump controlled by a rotary valve, or a servo motor equipped with an adjustable stroke eccentric disc to push the material , so that each row of bags can be individually and accurately adjusted.
The collection is controlled by PLC, and all actuators are driven by servo motors. Each actuator can be accurately and automatically positioned in synchronization, with reliable performance, convenient operation and automatic control.
The photoelectric tracking system is used to ensure the automatic registration of the double-sided patterns on the packaging bag, and it has an automatic counting function.
Strong adaptability to packaging materials. The sealing temperature of this machine has automatic control function and high control precision. It can adapt to a variety of packaging films produced at home and abroad, such as PET / AL / PE, PET / PE, NY / AL / PE, NY / PE, etc.
It can be adapted to add additional functions, such as a dotted knife, a flat knife, and even a special-shaped knife. The code can be selected with different steel characters (hard batch number), and various alarm requirements.


Four Side Sealed Sachet Filler Technical Parameter
| Model | Technical Parameter |
| --- | --- |
| Bag length | 80-120mm(L) (adjustable) |
| Bag width | 60-105mm(W) |
| Max packing speed | 30-50times/min (4-7lines) depend on sachet size and material |
| Measuring range | 10-100ml |
| Cutting style | Flat cutting, with tear notch |
| Sealing style | 4 sides sealing |
| Applicable film | PET/AL/PE PET/PE NY/AL/PE NY/PE |
| Max width of film roll | 900mm |
| Max film roll diameter | Φ300mm |
| Film roll core diameter | Φ76 mm |
| Power voltage | 380V/ 3 phase 4 wires 50HZ |
| Power | 12KW |
| Machine size | (L)1650mm×(W)1500mm×(H)2200mm |
| G.W | 1500kg |