Bottle Tilt Sterilizer
Bottle Tilt Sterilizer Equipment Overview
The bottle inverting conveyor chain is a special equipment developed according to the technological characteristics of the juice hot-filling production line. The sealing gasket of the cap is softened to improve the sealing degree between the cap and the bottle body. The sterilizing time is ≥30 seconds. After the sterilization is completed, the conveyor chain will automatically straighten the product and enter the next process. During the conveying process of the high-temperature filled material, the bottle is automatically poured on the bottle-inverting chain through the pouring mechanism of the bottle-inverting chain, so that the bottle cap is continuously in contact with the high-temperature material for a certain period of time, and the high temperature of the material itself is used to sterilize the bottle cap. At the same time, the cap and the container are heated evenly before entering the spray cooling machine, and the sealing effect of the bottle cap is improved.
The online bottle tilt sterilization machine is mainly composed of a chain of transmission system, chain system, frame, inverted bottle turning guide bar; the machine can realize automatic rotary sterilization and self reset, and the sterilization process only through the inner high-temperature liquid of the bottle and without any increase of heat source, achieve the purpose of saving energy.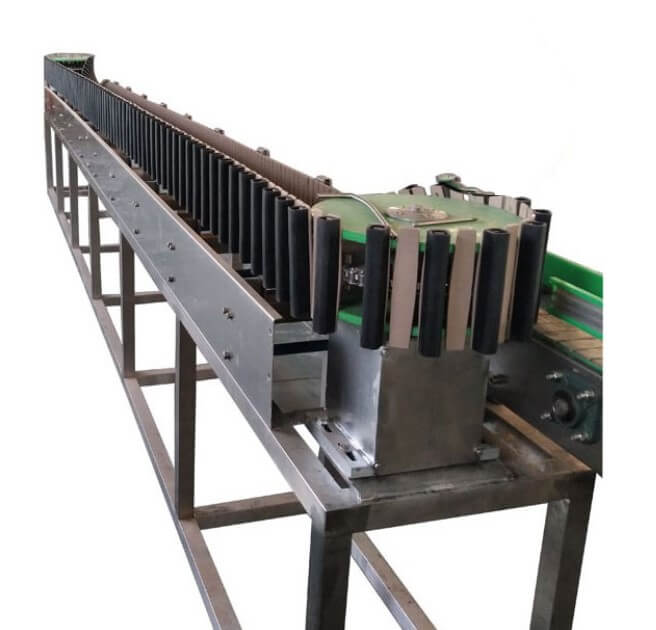 Bottle Tilt Sterilizer Application
This equipment is mainly used for sterilizing the parts of the bottle mouth, the inner wall of the bottle cap and the inner part of the bottle after the hot filling of juice or tea into plastic bottles.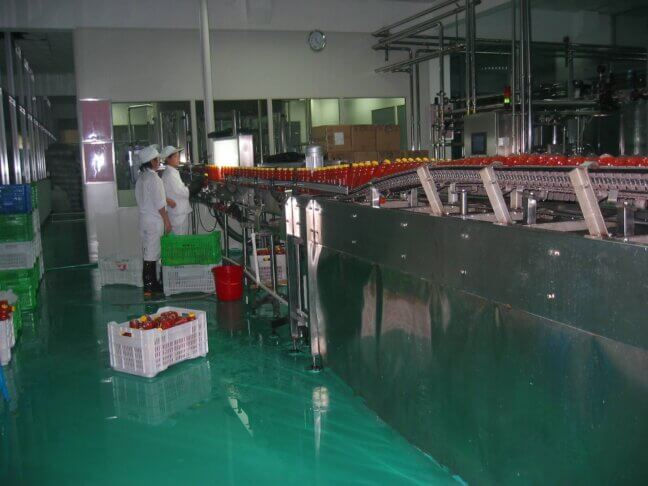 Bottle Tilt Sterilizer Feature
The main motor adopts frequency speed regulation, which can easily set the production speed.
The body machine is all made of stainless steel (AISI304), and the appearance is beautiful, clean and hygienic.
The material in the bottle fully infiltrates the joint part of the bottle mouth and the bottle cap. And a special device can be installed to realize the bottle running process
Orbital vibration, the material in the bottle fully convection heat exchange.
The conveying system adopts a combination of polymer materials, heat-resistant chainplates and stainless steel chains, and the plate surface is flat and wears little.
The bottle body support chain plate is fixed with a heat-resistant rubber sleeve, which has better support and anti-rolling and anti-skid performance for the round bottle body, and can adapt to large-capacity bottle types.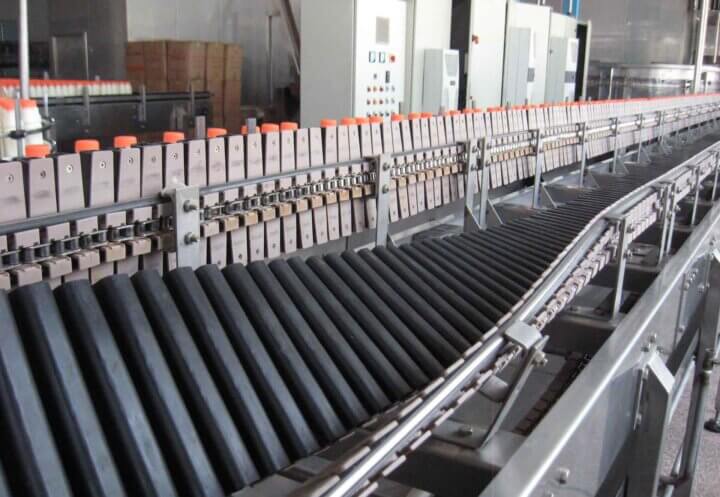 Technical Parameter
| Model | Size(L*W*H) | Capacity(500ml) | Power | Sterilizing Time&Temperature |
| --- | --- | --- | --- | --- |
| DPL-06 | 6000×650×1200mm | 2500BPH | 1.5KW | 85℃ Holding for 30S-45S |
| DPL-08 | 8000×650×1200mm | 5000BPH | 1.5KW | 85℃ Holding for 30S-45S |
| DPL-10 | 10000×650×1200mm | 6000-8000BPH | 1.5KW | 85℃ Holding for 30S-45S |
| DPL-12 | 12000×650×1200mm | 10000BPH | 1.5KW | 85℃ Holding for 30S-45S |
| DPL-14 | 14000×650×1200mm | 12000BPH | 2.2KW | 85℃ Holding for 30S-45S |
| DPL-16 | 16000×650×1200mm | 15000BPH | 2.2KW | 85℃ Holding for 30S-45S |
| DPL-18 | 18000×650×1200mm | 18000BPH | 3KW | 85℃ Holding for 30S-45S |
| DPL-22 | 22000×650×1200mm | 24000BPH | 4KW | 85℃ Holding for 30S-45S |
| DPL-26 | 26000×650×1200mm | 32000BPH | 4KW | 85℃ Holding for 30S-45S |
Video Performance